Czechs Outline More Rapid Rate Hikes as Inflation Risks Increase
The Czech Republic raised borrowing costs and said it would push on with one of Europe's most aggressive monetary-tightening campaigns to keep inflation under control even as some pandemic risks remain.
The central bank lifted its key rate by a quarter point to 0.75% on Thursday, as expected. Governor Jiri Rusnok said some board members were more inclined than six weeks ago to support a half-point hike, as implied in the new forecast, but in the end opted for more gradual increases.
"We are ready to raise our interest rates at basically each coming meeting, but we don't want to do it in some dramatic way because there's no urgency," he told reporters in Prague. "We believe that if we go at this moderate pace of 25 basis-point hikes we will make no major monetary-policy mistakes."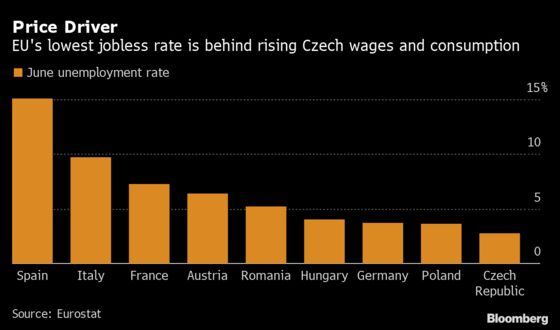 With an overheating labor market and an inflation rate that's already testing policy makers' tolerance, the central bank now expects that supply-chain bottlenecks and high commodity prices will push consumer prices even higher. Still, the board is aware of uncertainties related to the economic recovery, which could pose "slightly anti-inflationary" risks.
The country of 10.7 million people has more job vacancies than those without work even after a hard four-month virus lockdown that ended this spring. Thanks partly to record government spending, inflation has remained above the central bank's goal throughout the pandemic, and pent-up demand is now adding pressure on prices.
Read more: Top Czech Rate Setter Challenges View of 'Transitory' Inflation
The hawkish approach -- also shared by Hungary, whose central bank delivered its second rate hike last week -- contrasts with prolonged monetary stimulus in the euro area and neighboring Poland, where central banks say current inflation pressures will ease with time.
The Czech National Bank increased its projections for economic growth and inflation, and they imply at least quarter-point rate hikes at each of the three remaining policy meetings this year.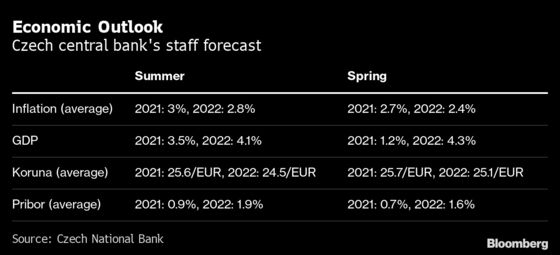 The new outlook is more inflationary and implies faster monetary tightening, according to Jiri Polansky, an analyst at the Czech unit of Erste Group Bank AG.
"The bank board, or its majority, is aligned with this forecast and the hawkish stance has further strengthened compared with the previous meeting," he said.