Czechs Lift Rates And Flag Rapid Campaign Against Inflation
The Czech Republic raised borrowing costs for the first time since before the coronavirus pandemic, becoming the second country in the European Union's east to embark on rapid monetary tightening against the potential risk of spiraling inflation. The koruna gained.
The central bank raised its benchmark by a quarter-point to 0.5% on Wednesday, as expected. One of the seven rate setters sought a half-point increase, while two voted for no change. The move came one day after policy makers in Hungary became the first in the EU's eastern wing to increase interest rates to curb the bloc's fastest price growth.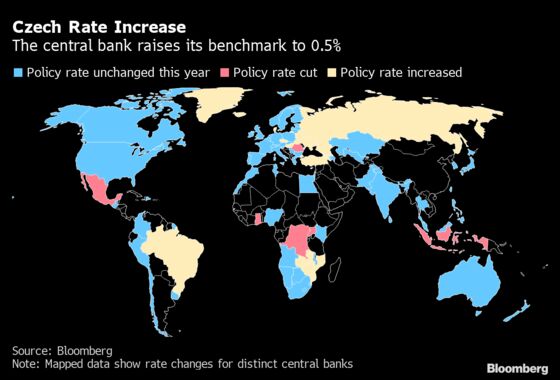 With an overheating labor market and risks of global inflation pressures spilling into the economy, Governor Jiri Rusnok said the bank is now entering the stage of gradual policy tightening. It aims to bring rates to the trajectory outlined in its forecast, which implies a total of three hikes for this year.
"We are definitely determined, without hesitation, to keep normalizing interest rates as needed," Rusnok said after the policy meeting. "It's possible that we will raise rates at every following meeting, which would reliably take us to the level that the current forecast assumes."
The koruna gained 0.4% against the euro after Rusnok's comments, outperforming its regional peers.
After cutting rates more than anywhere else in the EU at the start of the pandemic, the Czechs are taking a hawkish stance in the debate over whether the global spike in consumer prices is temporary or requires an immediate response.
The Czech economy is rebounding faster than initially expected after authorities lifted lockdown restrictions and a vaccination campaign gained traction, resulting in a plunge in the number of new cases of the virus.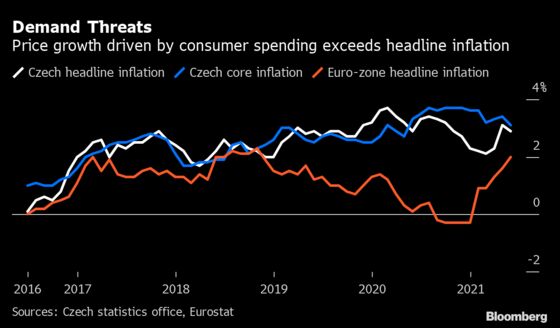 Rate setters have said that the supply chain problems and higher commodity costs, currently boosting inflation around the globe, may fade. But with Czech price growth currently near the top of their 1%-3% tolerance range, they want to prevent global factors from boosting inflation expectations.
"We are concerned that part of these effects will stay in the economy permanently," Rusnok said. "We can't expect them to peter out on their own. We are not that optimistic."
The bank will hold four more policy meetings in 2021, and Rusnok said he can't rule out that each will bring more tightening if needed.
"I'm not saying it will be the case, and I rather hope it won't be necessary," he said.