Curve-Flattening Finds Fuel in Italy Woes as Fed Risk Subsides
(Bloomberg) -- Italy's fiscal challenges are providing fresh impetus to the flattening in the Treasuries yield curve, now that the biggest domestic risks are behind the U.S. bond market.
The convergence of short- and long-dated U.S. yields has picked up where it left off ahead of Wednesday's Federal Reserve decision. The flattening trend had paused in recent weeks as investors debated the risk that policy makers would signal a slower pace of rate hikes.
With the trajectory on rates reaffirmed, the focus returns to turmoil abroad, and more reasons to buy U.S. assets. The surge in Italian borrowing costs is one, judging by the dip in U.S. 10-year yields Friday, which followed a bigger tumble in German yields.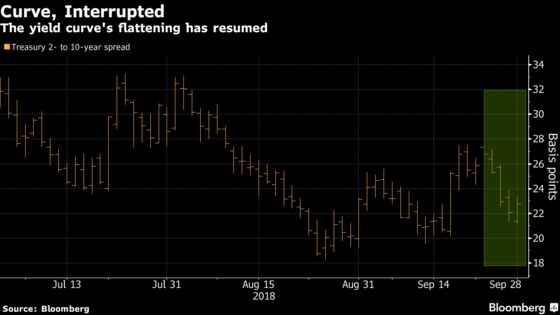 "Investors are going to asset-allocate from where there might be risks to where they know they're safer," which is happening now with Italy as the catalyst, said Joseph LaVorgna, chief economist for the Americas at Natixis.
He sees the U.S. curve inverting around year-end, with the 10-year yield falling below the two-year. In his view, Italy's deficit could remain a concern for global markets, particularly as the European Central Bank moves to pare stimulus.
However, for him that's only one foreseeable driver of a flight-to-quality trade in a globally interconnected market, where investors are also exposed to risks such as a further cooling of China's economy or weaker commodities demand.
And the flattening trend isn't just drawing support from the perception of threats elsewhere. It's also benefiting from the perceived absence of threats in the U.S. In particular, inflation markets this week adjusted lower following Fed Chairman Jerome Powell's comments on price pressures, and the longer-dated Treasury yields most vulnerable to inflation trends subsided.
"The yield curve isn't flattening just because of what's happening in Italy," LaVorgna said. "Part of the story is that the Treasuries market doesn't believe there is meaningful inflation risk going forward."