Cruise Ship Virus Outbreak Is Biggest Outside China With 61 Sick
(Bloomberg) -- Japan confirmed 41 more cases of the new coronavirus aboard a quarantined cruise ship, and denied entry to another vessel as it sought to control the spread of the deadly infection among thousands now stranded on a luxury liner.
The results bring to 61 the tally of infections among 273 passengers and crew so far tested aboard the Diamond Princess, which is being kept in isolation at the port of Yokohama and is the biggest center of infection of any place outside of China. Risks are mounting that the virus could spread further in the confined spaces of the ship, where many onboard have increased vulnerability due to their advanced ages.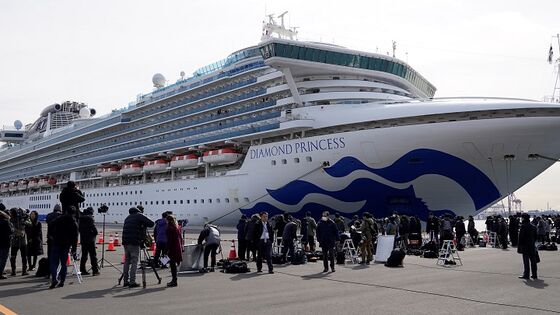 Japan's Ministry of Defense said Thursday it would send Self-Defense Forces medical personnel to help out with treatment on the ship, and bring alongside a commercial passenger vessel to act as a temporary base. Health Minister Katsunobu Kato said he was considering testing other elderly and vulnerable people among the roughly 3,700 people aboard.
"The fact that the numbers appear to be increasing so rapidly is of great concern," said Stanley Deresinski, a professor and infectious disease specialist at Stanford Health Care. "If that continues at this rate, it's going to be a large number of people."
Tests will prioritize those passengers who are not feeling well because it may not be possible to test all of the some 3,700 people on board during the two-week quarantine period, said an official from Japan's Ministry of Health, Labor and Welfare, who declined to be named as per ministry policy.
Testing won't be primarily based on one person's proximity to another infected person, the official said, adding the government is considering how to follow up on those who were tested negative. It hasn't yet decided how many people will be tested, the official said.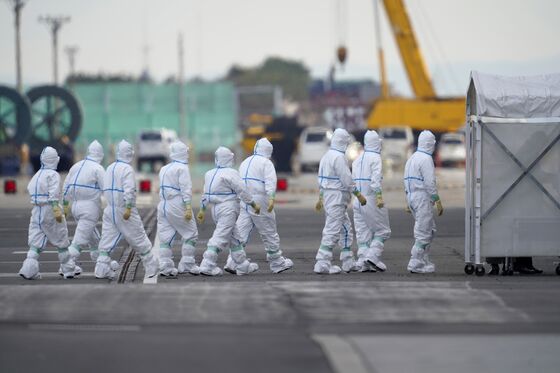 But another infectious disease expert said it would be ideal to test everyone since it's possible that those without symptoms may be still be infected.
"You want to test people periodically and separate people who are sick from those who aren't and isolate them," said Stephen Morse, a professor of epidemiology at Columbia University's Mailman School of Public Health in New York and a specialist in infectious diseases. "The safest thing to do is to stay away from other people."
Morse also raised questions on the type of air ventilation system on board the cruise ship and whether they would adequately filter out droplets and airborne virus particles that may be pumped into cabins.
Foreign Minister Toshimitsu Motegi said one of those infected on the ship was now confirmed to be in serious condition, while Twitter users who said they were aboard the vessel expressed increasing concern. China's mainland has been the hardest hit with infections climbing to more than 31,000 while the death toll was at 636 people.
The developments have delivered a fresh blow for Diamond Princess owner, Carnival Corp., and other cruise companies which are being forced to cancel trips heading into the peak booking season for vacations at sea. Japan is also anxious to avoid any damage to its image as an increasingly popular tourist destination as it prepares to host the Summer Olympics this year in Tokyo.
Cruise Lines International Association said its members have suspended crew movements from mainland China and will deny boarding to any individual, whether guest or crew, who has travelled from or through mainland China within the previous 14 days.
Princess Cruises said the quarantine end date will be Feb. 19 "unless there are any other unforeseen developments." Those infected include one passenger from Argentina, seven from Australia, seven from Canada, 28 from Japan, three from Hong Kong, one from New Zealand, one from Taiwan, one from the U.K., 11 from the U.S., and one Filipino crew member, it said.
For more on the infections:
Japan has banned a separate cruise ship -- the Westerdam -- from berthing at a port in the country, saying a person on the vessel was suspected to have contracted the virus.
Cruise operator Holland America, part of Carnival Corp., said earlier there were no known cases of the novel coronavirus aboard the Westerdam and the ship was not in quarantine.
A third cruise liner, carrying about 3,600 passengers and crew, is also being held off Hong Kong after three people who had previously traveled on it were diagnosed with the new virus.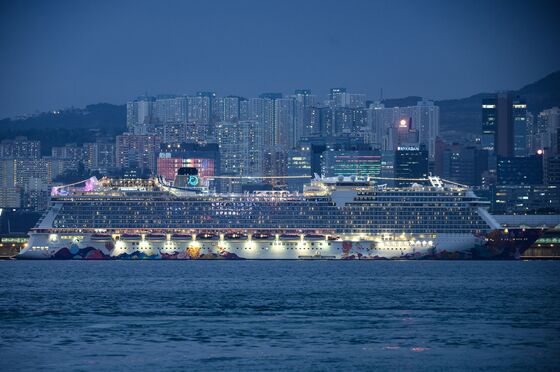 Health Minister Kato said the World Health Organization would not count the 61 cruise ship passengers and crew as being infected in Japan. Twenty-five people in Japan have been confirmed as having been infected with the disease, most of them having spent time in Wuhan, China, the epicenter of the outbreak.
Meanwhile, emotions are running increasingly high on board all three stranded vessels.
"This was supposed to be a big bucket list trip for my wife and I that has now turned into a logistical nightmare and potentially put our health at risk," Stephen Hansen, a retiree from Vancouver who said he was aboard the Westerdam, wrote in an e-mail.
"Our biggest concern is what will happen once we are accepted into some port -- probably Guam. We are Canadian citizens so don't know what our status will be. Will we be quarantined? Will we be deported? Who knows?"