Crop Trader Andersons Says China Rally to Outlast Planting Boom
(Bloomberg) -- American farmers are set to plant the most corn and soybeans on record, but that won't be enough to cool a China-driven price rally.
That's the view of Andersons Inc., one of the top five grain traders in the U.S. While growers will plant a combined 183 million acres this year, it will take more than one season to return the global market to surplus as China continues to scoop up everything from corn to soy to feed a hog herd that's recovering from a deadly pig disease, said Chief Executive Officer Pat Bowe.
Crop prices have hit the highest in almost seven years as last year's U.S. crop turned out smaller than previously expected. That's added to dry weather that delayed planting in South America, prompting the U.S. to supply China for longer than it usually does. What's more, China is so hungry that the world's top soybean importer has already started buying American supplies that are yet to be planted.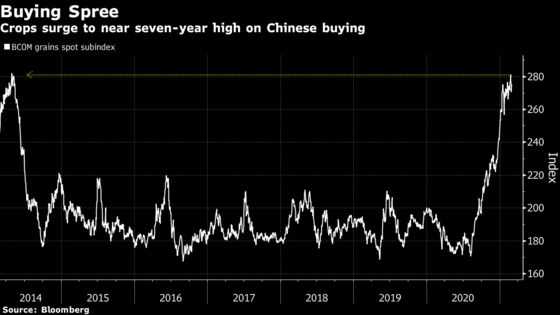 "One big corn crop is not going to cure the supply and demand, but everyone is going to be watching how U.S. plantings go," Bowe said said in an interview Monday. "China demand will continue" and replenishing inventories "can't happen with just one year."
Andersons expects American farmers to plant 93 million acres of corn, one million more than the U.S. Department of Agriculture. For soybeans, the trader forecasts sowings of 90 million acres, in line with the agency's first projections for the 2021-22 released last month. Still, the soybean market will remain tight and prices volatile, Bowe said.
Record plantings will help Andersons utilize its network of U.S. grain elevators and boost sales of fertilizers. The Maumee, Ohio-based trader beat expectations for its 2020 earnings as trading profits improved and its plant-nutrient unit had its best year since 2014. Shares rose 41% over the past year even as the pandemic kept cars off the roads, hurting its ethanol business.
"Farmers with higher income and high commodity prices, they are going to want to make sure they do a good job of fertilization of their crops this year," Bowe said, adding that the recent snowstorm that hit the central part of the U.S. brought much needed moisture to dry soils.
The U.S. is likely to continue to benefit from Chinese demand even if Brazil and Argentina expanded their production during the trade war, Bowe said. While it's still unclear what will happen to the phase-one trade deal under a Biden administration, Bowe is hopeful the countries will remain good trade partners.
China bought a record amount of corn for delivery this season, while soybean purchases are running at the highest level in USDA data going back to 1991. Still, the Asian nation failed to meet its pledge to purchase $36.5 billion in American agricultural goods last year as the coronavirus curbed demand.
"This year they came like gangbusters, and they haven't even fulfilled their commitment yet," Bowe said. "This feels like this is here to stay."
The rise in Chinese demand that fueled a rally in prices is a stark turnaround for agricultural commodities traders, which faced years of bumper crops that curbed the volatility they needed to thrive. That period of low prices prompted many to look for profits elsewhere, with the likes of Cargill Inc. investing in beef and aquaculture and Archer-Daniels-Midland Co. turning to flavors, pet food and veggie burgers.
Andersons is also targeting specialty markets, looking to grow in areas including supplying ingredients to the renewable diesel and pet food industries, Bowe said. While some of the growth will be handled internally, the company is also on the lookout for bolt-on acquisitions, he said.
The company last year started a new desk in Kansas City to trade raw materials for the renewable diesel industry, including corn oil, soybean oil and tallow. It's also eyeing the role it could play in carbon markets as climate is one of President Joe Biden's top priorities.
Andersons already has relationships with farmers, making it a natural partner in helping growers manage greenhouse-gas sequestration and participating in voluntary carbon credit trading, according to Bowe.
"We're not looking to buy more grain elevators, or buy fertilizer sheds or buy ethanol plants," Bowe said. "It's really in these other areas, where we see growth for the company."