Wheat Falls as Russia Eases Limits, Australia Sees Bumper Crop
(Bloomberg) -- Wheat prices fell after Australia forecast its second-highest crop ever and Russia proposed curtailing grain exports next year.
Wheat futures fell as much as 3.3% to $5.85 3/4 a bushel in Chicago trading, the lowest for the contract in almost eight weeks. Corn and soybeans also fell following rainfall in South America during the weekend.
Wheat had been on track for its fifth straight monthly gain on Friday, its longest streak in 13 years, before Monday's retreat. The turnaround came after Australia raised its production estimate by 8% to 31.2 million tons. Russia, the world's biggest wheat shipper, aims to ease its plan for curbing grain exports in 2021, with shippers saying there's adequate supply to satisfy demand as some importing nations stockpile food.
"Essentially there is going to be no limit on Russia wheat exports on a practical basis," Rich Nelson, chief strategist at Allendale Inc., said by phone.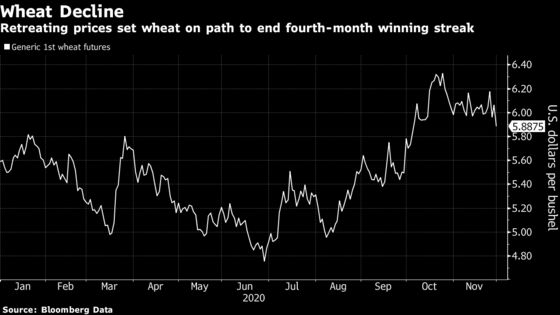 Soybeans and corn futures pulled back as parts of Argentina and Brazil saw rain during last weekend with more expected this week. Still, key growing areas of both countries are expected to remain dry, Terry Reilly, commodity analyst at Futures International in Chicago, said in a note.
The La Nina climate phenomenon has curtailed rainfall in Brazil, the top grower of soybeans, sparking output concerns when China's feed-grain demand is booming.
Soybeans fell as much as 1.9% to $11.69 a bushel
Corn declined as much as 1.7% to $4.26 1/4 a bushel
U.S. CROP EXPORTS: Combined 344k Tons of Corn to Unknown Buyers
U.S. Inspected 890k Tons of Corn for Export, 2.036m of Soybean
U.S. Corn, Soybean, Wheat Inspections by Country: Nov. 26
EU Wheat Exports Down About 24% So Far This Season; Data Delayed
CROP TENDER: Turkey Is Seeking to Buy 400,000 Tons of Wheat
Brazil Soybean Planting 87% Completed as of Nov. 26: AgRural