Negative Rates No More Taboo in Israel as Virus Hits Economy
(Bloomberg) -- The Bank of Israel shifted course by cutting interest rates to just above zero, and hinted it may not stop there if the coronavirus continues to ravage the economy.
In a sign it could be rethinking a long-held reluctance to push borrowing costs into negative territory, the monetary committee said it would expand the use of existing tools, including rates, and introduce new ones depending on the length of the crisis.
On Monday, it brought the key rate back to its all-time low of 0.1% from 0.25%, in line with the forecasts of most economists surveyed by Bloomberg. Local equities and corporate bonds rose after the announcement, while the shekel pared some of its gains against the dollar.
Israeli policy makers also announced what they called "unprecedented" new measures that include low-interest loans to banks and repurchase transactions with corporate bonds accepted as collateral. Only weeks ago, officials played down the potential for cheaper borrowing costs and concentrated on markets in designing their emergency response to the pandemic.
"Stating that interest-rate instruments are still a viable tool is a very strong forward guidance," said Guy Beit-Or, head of macro research at Psagot Investment House, in a note after the decision. "The Bank of Israel just signaled that, in their view, moving to a negative interest rate, if required, is no longer taboo."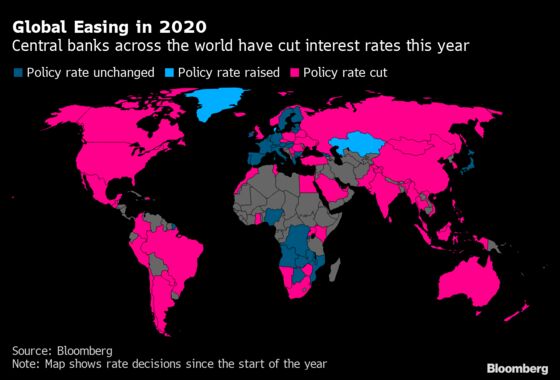 The last time Israel started to cut rates under then-Governor Stanley Fischer, it ended up stopping just short of zero. But the old rules no longer apply as it looks to blunt the economic damage from the outbreak at a time of a near-total lockdown of domestic business and a liquidity squeeze in the financial system. Among major central banks, the European Central Bank and Bank of Japan already have negative rates.
In an accompanying research staff forecast, the Israeli central bank's economists said they see output contracting 5.3% this year with a policy interest rate between 0% and 0.1% at the end of 2020. Economic growth is forecast to snap back to a gain of 8.7% in 2021.
"We hope the outlook won't be worse than we've forecast here, but if it is, we don't see a further need to specifically use the interest rate tool," Governor Amir Yaron told reporters after the decision. "But still, at a certain level, if we see more serious developments then we can certainly consider if it will be relevant to use this tool again."
The central bank's previous guidance, last repeated in February after Israel reported its first case of the virus, said that "it will be necessary to leave the interest rate at its current level for a prolonged period or to reduce it."
Monday's rate cut was likely needed to help launch the cheap-loan program, Beit-Or said.
The challenge now is to offer immediate relief to an economy fast sinking into a recession while crippled by a dramatic upsurge in unemployment to 25%. Israel has shut down almost all business and movement outside the home. The country has 8,611 confirmed cases of the virus and more than 50 deaths.
The central bank has already re-started a government bond-buying program for the first time since 2009, committing to purchase nearly triple the amount of sovereign debt it did amid the financial crisis.
It's additionally offering swaps transactions with banks to ease demand for dollars and has relaxed regulations on local banks.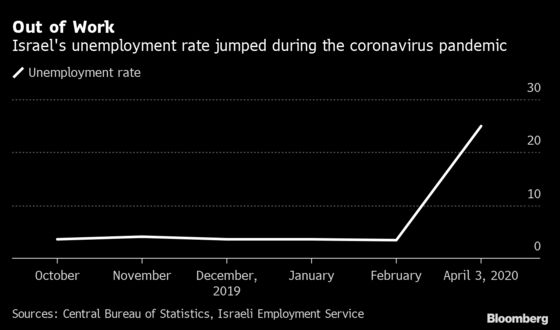 That 50 billion-shekel ($14 billion) government bond-purchasing program is expected to "be enough to aid this market, also if there will be further fiscal expansion," Yaron said. "We, of course, will consider growing the program to the extent that there is a need to stabilize the market going forward."
The Bank of Israel has also sharply reduced its offerings of short-term debt, a way of loosening policy by absorbing less money. Buying corporate debt could be on the table if the government's fiscal aid doesn't help overcome the economic ordeal caused by the coronavirus outbreak.
Yaron has meanwhile been asking for a primarily fiscal response, saying Monday that "most of the burden in dealing with the crisis falls on the government's budget policy."
The government last week announced a substantial expansion in aid to a total of 80 billion shekels, equivalent to some 6% of Israel's output. Much of it will be in the form of low-cost loans, while some is earmarked for health care and a social safety net.
The program has come under criticism for its reliance on loans rather than grants, and for what some analysts say is a lack of clarity on the package's targets. Many are also urging wider assistance to preserve the economy, with the Manufacturers Association calling for around 140 billion shekels in aid.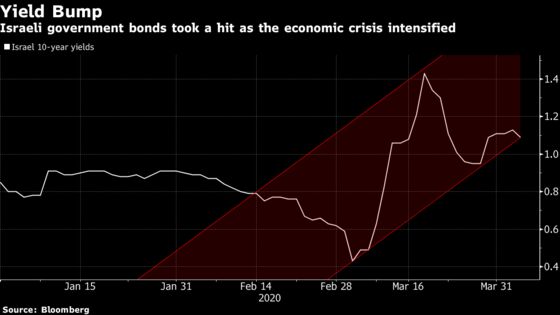 "Going forward, we expect the Bank of Israel to keep the policy rate at the current rate for a prolonged period and to deliver any additional easing through increased liquidity and credit measures," Goldman Sachs Group Inc. economists Murat Unur and Kevin Daly said in a report.
"Given the new forward guidance, another rate cut is a possibility, but we think that the central bank is more likely to implement measures to ensure that the current low interest rate is transmitted to the rest of the economy, similar to the provision of monetary loans to banks released today," they said.