Crippled European Equities Get Chinese Stimulus: Taking Stock
(Bloomberg) -- Euro Stoxx 50 futures are up 0.4 percent, while S&P futures are up 0.6 percent. The initial U.S. rally quickly faded yesterday, after words came out that President Trump intends to tax all Chinese imports should talks fail next month. China on the other hand is looking for ways to stimulate its economy with measures including buying shares of public companies, and laxer rules on buybacks and M&A, which spurred a rally in Chinese stocks.
After such a market pull-back, traders are looking for reasons to cheer: a decline in German bunds and a rally in German stocks on Monday showed that some investors believe Angela Merkel's political decline could potentially open the door to greater government spending.
Carmakers will again be among the stocks to watch. Volkswagen reiterated its goals for the year, after robust results from its Porsche unit. The stock is trading up 2 percent on Tradegate.
It's also another big day for oil & gas, the only Stoxx Europe 600 sector in positive territory this year, with BP reporting earnings after disappointing updates from Total and Eni last week. Once again, investors will look for further divestments after the company's bold move to buy BHP's shale assets in the U.S.
A chart that caught our eyes is the Smart Money Index dropping like a stone this year to its lowest level since 2009. Smart money usually waits until the end the session and it very often tests the market before by shorting heavily just to see how the market reacts. The current price action could be a confirmation of the so called "smart money" underexposure to equities. Extreme levels might be another sign that markets are bottoming, at least in the short term.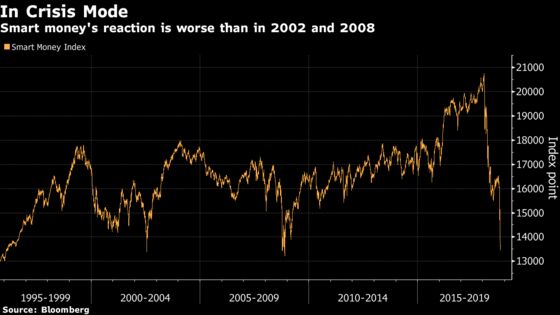 Another reason that may have prompted investors back into buying equities is the fact that the confidence into the Federal Reserve tightening policy is showing signs of exhaustion. As the Fed is being criticized for its hasty rate hikes while equities are falling, markets are now factoring in fewer than two quarter-point hikes for next year, compared with the three increases that policy makers project.
Markets are expected to get more volatile, although surprisingly, European stocks are tipped to experience less volatility than their U.S. counterparts. Since U.S. stocks peaked in late September, they've slid more than European shares amid concerns over decelerating earnings growth and rising rates. The Euro Stoxx 50's 90-day historical volatility also fell below the S&P 500's for the first time since 2011 this year.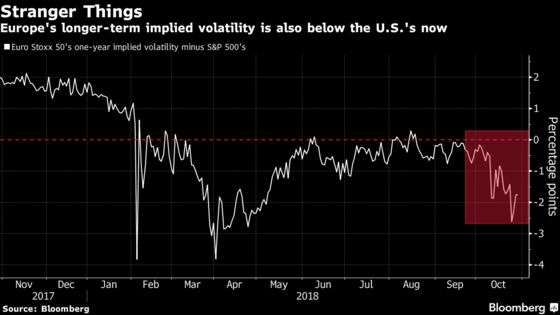 Elsewhere, metals are lower across the board on higher dollar and weaker yuan which may cap the upside for miners today. The pound is weaker after a U.K. budget which ultimate fate will still be decided by a Brexit deal or no deal. Nevertheless, keep an eye on U.K stocks, particularly bookmakers, insurance and utilities, which may all get a boost from the Chancellor of the Exchequer's measures.
"Markets are supposedly avoiding Italian equities as the next shoe to drop. On a year-to-date basis, the hard truth is that Italian stocks have done no worse than their German peers," AlphaValue strategists write in a note. "The painful reality is that the German coverage is long of autos for which earnings downgrades are in full swing. German 2018 earnings have been downgraded by more than 10% over the last 3 months whereas Italian earnings have hardly budged beyond the odd Atlantia provisioning. Of course the Salvinis of this world may create the conditions for a total breakdown in the earnings capability of Italian corporates but the odds are rather that Italian businesses are likely to extract more from a lax Italian budget than bond holders."
NOTES FROM THE SELL SIDE:
Morgan Stanley moves overweight on Unilever for a first time since 2010-12 as Richard Taylor assumes coverage, with the broker now seeing compelling risk/reward for the stock. Main reasons include top-line acceleration driven by improving pricing environment, EPS inflection up to low double digit, strategic optionality from portfolio change and balance sheet deployment, potential total shareholder return above 30% over next 2 years.
Jefferies is "unconvinced" Drax will continue to rise after shares a ~51% performance in 2018, mainly due to higher power prices. The broker cuts its rating to hold from buy.
Raymond James believes Bic's margin is likely to remain under pressure in 4Q and it's still unclear what the co.'s guidance for margins will be for 2019, as raw materials are likely to remain a headwind.
Volkswagen reiterated its goals for the year, as robust results from the Porsche luxury brand helped stem the fallout from trade tensions, a cooling Chinese market and new emission tests in Europe that triggered costly production bottlenecks this year.
The bond-trading gloom continues at BNP Paribas. France's biggest lender joined Deutsche Bank in posting steep declines for fixed-income trading in the third quarter, complicating CEO Jean-Laurent Bonnafe's plans to meet 2020 targets.
BBVA reported net income for the third quarter that was 3.7% above the average analyst estimate.
Deutsche Lufthansa will rein in capacity increases in 2019 after posting a third-quarter operating profit that fell below last year's level and missed analysts targets as fuel costs rose.
Reckitt reported like-for-like sales for the third quarter that missed the average analyst estimate.
BP reported adjusted net for the third quarter that beat the highest analyst estimate.
Watch Bookmakers, Life Insurers, Utilities After U.K. Budget
Watch Autos, Miners on Report of Potential Further U.S. Tariffs
Capgemini Confirms 2018 Forecasts at Capital Markets Day
Capio Final Third Quarter Net Sales SEK3.82 Bln
SCA Third Quarter Ebitda Beats Estimates
SDL Says FY Trading Is in Line With Board's Expectations
Ocado Sees Kroger Pact Having Neutral Impact on Earnings in FY18
French Govt Could Invest in Altifort's Ascoval Bid: Minister
Beiersdorf Nine Month Sales Meet Estimates
Grenke Outlook Positive, Loss Provisions Raise Questions: Coba
Nicox Postpones Dual Listing on Nasdaq Due to Market Volatility
Deutsche Bank Is Doing Just Fine, Says Its Top Investment Banker
Spanish Grocer Mercadona Seen Treading Lightly in Portugal Foray
Danske Whistle-Blower Freed to Talk to U.S. and EU Authorities
Aixtron 3Q Ebit Beats Estimates; Raises FY Ebit Guidance
Wirecard Third Quarter Ebitda 2.6% Above Estimates
Telefonica Deutschland Raises Profit Guidance, 3Q In Line
SIG Combibloc 3Q Adj. Ebitda Down 8%, Confirms FY Guidance
Comdirect Nine Month Pretax Profit EU64.3 Mln
Arbonia Sells Property to Swiss Finance & Property Funds
Nasdaq Stockholm Reviews How Home Developers Report Income: SVD
Alpiq Explores Selling Coal Plants in Czech Republic
Axactor Acquires NPL Portfolio in Finland From Bank Norwegian
Rational 3Q Sales Miss Lowest Estimate, Reaffirms FY Views
Nemetschek Third Quarter Ebitda Meets Estimates
TECHNICAL OUTLOOK for Stoxx 600 index:
Resistance at 359.9 (January 2017 low); 362 (March 2018 low)
Support at 353.1 (50% Fibo); 341.2 (61.8% Fibo)
RSI: 33.4
TECHNICAL OUTLOOK for Euro Stoxx 50 index:
Resistance at 3,194 (50% Fibo); 3,262 (March low)
Support at 3,072 (61.8% Fibo), 2,921 (76.4% Fibo)
RSI: 34.8
MAIN RESEARCH AND RATING CHANGES:
UPGRADES:
Asos upgraded to add at AlphaValue
Bobst upgraded to buy at Research Partners; PT 105 Francs
DEFAMA upgraded to buy at SRC Research; PT 15.20 Euros
Deutsche Post upgraded to buy at Stifel; PT 33 Euros
Electrocomponents raised to neutral at Credit Suisse
Novozymes raised to neutral at JPMorgan; Price Target 300 Kroner
OMV upgraded to buy at Concorde; PT 57 Euros
PostNL upgraded to hold at Berenberg
Travis Perkins raised to equal-weight at Barclays
UNA NA GDRs raised to overweight at Morgan Stanley; PT 57 Euros
Unicaja Banco raised to buy at Bankinter Securities
Wacker Chemie upgraded to neutral at JPMorgan; PT 78 Euros
eQ upgraded to accumulate at Inderes; PT 8.40 Euros
Ahlsell downgraded to neutral at JPMorgan; PT 51 Kronor
Danske Bank downgraded to reduce at AlphaValue
Drax downgraded to hold at Jefferies; Price Target 4 Pounds
Karo Pharma cut to accept the offer at Kepler Cheuvreux
Kuka downgraded to add at AlphaValue
Amigo Holdings rated new hold at Berenberg; PT 2.40 Pounds
Peugeot rated new hold at Nord/LB; PT 20 Euros
Royal Unibrew rated new reduce at Kepler Cheuvreux
Watkin Jones rated new buy at Berenberg; PT 2.35 Pounds
MSCI Asia Pacific down 0.5%, Nikkei 225 up 1.5%
S&P 500 down 0.7%, Dow down 1%, Nasdaq down 1.6%
Euro up 0.11% at $1.1386
Dollar Index up 0.14% at 96.72
Yen down 0.29% at 112.7
Brent down 0.1% at $77.3/bbl, WTI up 0.3% to $67.2/bbl
LME 3m Copper down 0.4% at $6135.5/MT
Gold spot down 0.1% at $1228.7/oz
US 10Yr yield up 2bps at 3.11%
MAIN MACRO DATA all times CET:
9am: (SP) Sept. Retail Sales YoY, prior 0.3%
9am: (SP) Oct. CPI YoY, est. 2.2%, prior 2.3%
9:55am: (GE) Oct. Unemployment Claims Rate SA, est. 5.1%, prior 5.1%
10am: (IT) 3Q P GDP WDA QoQ, est. 0.2%, prior 0.2%
10am: (IT) 3Q P GDP WDA YoY, est. 1.0%, prior 1.2%
10am: (GE) Oct. CPI Hesse YoY, prior 1.9%
11am: (EC) Oct. Economic Confidence, est. 110, prior 110.9
11am: (EC) 3Q A GDP SA YoY, est. 1.8%, prior 2.1%
11am: (IT) Oct. Manufacturing Confidence, est. 105, prior 105.7
11am: (IT) Oct. Consumer Confidence Index, est. 115.1, prior 116
11am: (EC) Oct. Business Climate Indicator, est. 1.16, prior 1.21
12pm: (UK) Oct. CBI Retailing Reported Sales, est. 20, prior 23
1pm: (SP) Sept. Spain Budget Balance YtD, prior -18.9b
2pm: (GE) Oct. CPI YoY, est. 2.4%, prior 2.3%