Crime Probes Haunt Central Bankers From Black Sea to Baltics
(Bloomberg) -- When prosecutors questioned Poland's central bank governor last week, he joined a growing list of east European interest-rate setters entangled in criminal probes.
From the Black Sea to the Baltics, authorities have charged central bank officials or pulled them into investigations that have rattled markets and roiled political landscapes in a region trying to catch up with the richer West. They've also intensified scrutiny on scandal-dented financial industries and regulators while also creating new hurdles for countries lining up to join the euro.
None of those facing charges has been convicted, leaving unresolved the question of whether policy makers have done anything wrong or if they're under pressure from political forces seeking to undermine rivals' appointees or serve special interests. Either way, there's space for conflict as countries continue to pursue political and economic standards that have existed in western Europe for decades.
"Part of it is of course the generalized problems with the rule of law in eastern Europe," said Daniel Gros, the director of the Centre for European Policy Studies. "And partially some of the underlying problems in the banking sector were very serious."
Polish Governor Adam Glapinski underwent "routine" questioning by prosecutors in relation to bribery allegations against the head of the banking watchdog, his former protege. An appointee of the ruling Law & Justice party, Glapinski has denied any involvement and denounced calls to resign from the opposition as political maneuvering after the regulator's arrest rocked Warsaw's stock market.
Read more:
Former Slovenian Central-Bank Officials Probed Over Bailout 
Poland isn't planning on joining the euro zone any time soon. But elsewhere in eastern Europe, cases have triggered clashes with the European Central Bank.
Latvia erupted in scandal last year when police charged central bank Governor Ilmars Rimsevics for allegedly accepting bribes from a bank for helping with regulatory issues. An adviser to the European Court of Justice said Latvia violated EU law by restricting him from performing his duties. He denies wrongdoing and a full ruling may come by April.
To the south, former officials at Slovenia's central bank may face prosecution over a 2013 taxpayer bailout of state-owned banks. Investors who saw 600 million euros of their money wiped out are challenging the rescue, and a criminal complaint has been leveled against former Governor Bostjan Jazbec and his board members.
The ECB slammed prosecutors after they seized computers and documents during a 2016 raid of office as infringing the central bank's independence. Jazbec has denied wrongdoing, and in a comment to Bloomberg said that his "work involved protecting the assets of the Slovenian taxpayer in accordance with EU and Slovenian law."
"I understand that there is an investigation due to political pressure, the source of which would appear to be mainly coming from a small number of private investors," he wrote in an email. "This a notion that continues to astonish me. What also continues to disappoint me is that this small group of private investors have influence over public discourse through their political and media contacts."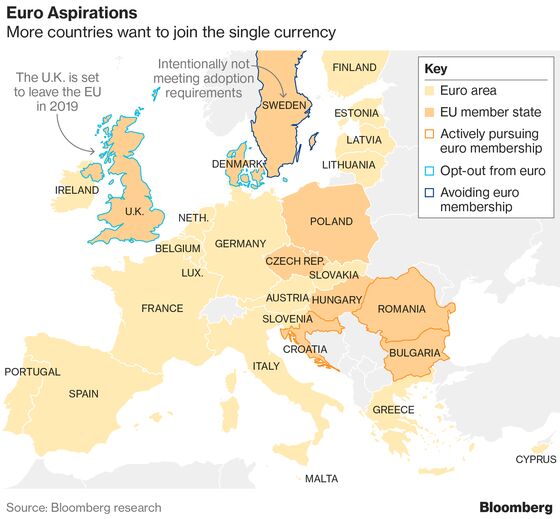 Western Europe is no stranger to scandals at its own central banks, and U.S. Federal Reserve Chairman Jerome Powell is facing political pressure from President Donald Trump. But according to Fredrik Erixon, director of the Brussels-based European Centre for International Political Economy, politics in the EU's eastern wing can more "adversarial."
"There isn't a long tradition of having independent and non-political civil servants at top government jobs, like running the central bank or the bank regulator," he said. "It's easy for the opposition and others to treat these posts as political."
In Romania, which may be gearing up to peg the leu to the euro next decade, central bank Deputy Governor Bogdan Olteanu resigned in 2016 after he was arrested by anti-corruption prosecutors. He denied wrongdoing and his trial is under way.
Bulgarian former Deputy Governors Tsvetan Gunev and Rumen Simeonov were charged with 16 other people for failing to supervise Corporate Commercial Bank AD, which collapsed. The scandal complicated Bulgaria's plans to adopt the euro, with the ECB expressing "serious concerns" over governance last year.
"The allegations against central bank officials in several countries raise the question of institutional integrity and preparedness to join the euro zone," said Otilia Dhand, an analyst at Teneo Intelligence. "The current members will be more hesitant to accept further members if they have any doubt about their preparedness."