Covid Set Back Working Latin American Women Over a Decade
(Bloomberg) -- The pandemic has set back the strides made toward increasing women's workforce participation in Latin America and the Caribbean by at least a decade.
Barring the outbreak, women in the region would have reached a labor force participation rate of 69%, matching that of the U.S., by 2055, according to an Inter-American Development Bank report published Thursday. But given the damage done to labor markets in the region by the coronavirus, hitting that level will now take a decade longer to achieve.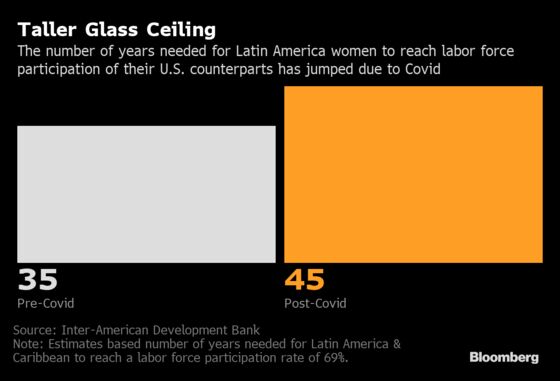 Over 31 million jobs were lost regionwide by July 2020, most of them by women, according to the IDB. Women younger than 25 -- with less formal education limiting their opportunities to the informal economy -- were hit the hardest.
The setback is taking place in a region that, until Covid-19 struck, had the world's highest growth rate for women in the workforce. Female labor participation in Latin America and the Caribbean reached 58% in 2019, up from 52% in 2000, an unprecedented pace, according to the IDB.
Differences within the region remain wide, the IDB said. Some of the most advanced Latin American countries have rates of female labor participation closer to 75%, while those at the bottom are near 40%.