Covid Baby Bust Predicted Amid U.K.'s Economic Slump
(Bloomberg) -- The U.K. birth rate may plunge to a record low this year amid a Covid-induced economic slump, according to PwC.
While some had expected the rise in remote working to lead to a spike in pregnancies, the advisory firm's annual predictions published Thursday see the unprecedented nature and size of the economic shock persuading Britons to postpone parenthood.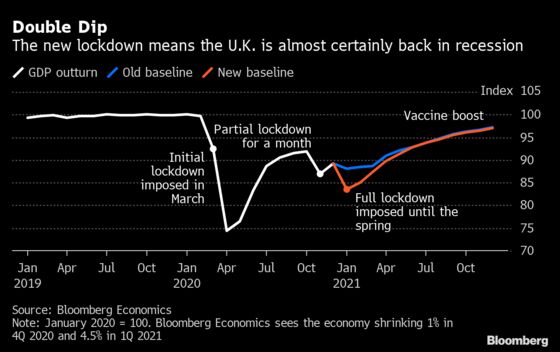 That's bad news for the longer term, since getting young people into the workforce is a key driver of growth. Another unexpected knock-on effect of the pandemic is that London's population will shrink for the first time in decades, PwC predicted.
The unemployment rate will record its biggest quarterly increase in the three months to June of this year and the economy could take until 2024 to recover, the report said. The government ordered a third widespread lockdown this month as virus cases surge.
A permanent decline in the birth rate may mean "the long-term challenges associated with the U.K.'s aging population, such as greater pressure on public services and lower economic growth, could be brought forward," said Hannah Audino, an economist at PwC.
Women's jobs are expected to suffer disproportionately from the impact of Covid, with the gender pay gap reversing its steady decline. In a recent PwC survey, 28% of women said their pay had fallen during the pandemic, compared to 22% of men, a disparity the firm says will worsen once the furlough program ends as women tend to work in shut-down sectors.