Bondholders Don't Get Paid; Kaisa Deferral: Evergrande Update
(Bloomberg) -- Some China Evergrande Group bondholders have not received overdue coupon payments after the end of a month-long grace period, putting the world's most indebted property developer on the brink of its first default on offshore notes. S&P Global Ratings said default "looks inevitable." 
A group of Kaisa Group Holdings Ltd. bondholders have sent the beleaguered property firm a formal forbearance proposal, which may buy some time and help it avoid a default on $400 million dollar bonds due Tuesday.
Shares in China's real-estate companies jumped after policy makers moved to expand support for the economy as a property market downturn threatens to hamper growth into next year. Evergrande dollar bonds ticked higher Tuesday, with the note due March 2022 at 22.6 cents on the dollar and its bond due 2025 at 19.6 cents, Bloomberg-compiled prices show. The shares erased a morning gain of 8.3%, the biggest jump in two weeks, to finish just 1.1% above Monday's record low.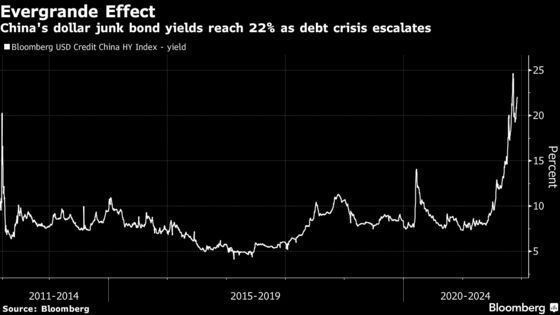 Evergrande's Epic Restructuring Puts Onus on Xi to Limit Fallout
China Developers Surge as Policy Makers Shift Toward Easing
Shimao Says It Will Raise Net HK$1.17b in Top-Up Placement
Sunac's Cash Balance Boosted By Share Placement, Asset Disposals
Evergrande Clarity? China Bank's Offshore Issuance: BI APAC FICC
China Property Prices Expected to Remain Steady in 2022: News
Property, Policy Hold the Key to China 2022 Outlook: BI
Kaisa Fails to Deliver Flats, Pay Wages in Guangzhou: CCTV
Logan Group to Raise HK$1.17b in Share Placement
Onus Falls on Xi to Limit Fallout From Evergrande Restructuring (6:08 p.m. HK)
With the property giant headed for one of China's biggest-ever debt restructurings, the question is now whether Beijing can limit the fallout.
Barring a last-minute shock, holders of $19.2 billion in Evergrande dollar notes face deep haircuts as the company overhauls its mammoth balance sheet without a government bailout -- a process that promises to be long, contentious and potentially risky for Asia's largest economy.
China Chengxin Cuts Evergrande Onshore Rating (5:38 p.m. HK)
The ratings agency also leaves the unit on its watch list for possible downgrade, according to a filing.
S&P Sees Evergrande Default as 'Inevitable' (4:40 p.m. HK)
A creditor's demand that the builder fulfill a $260 million bond payment shows Evergrande's "liquidity remains extremely weak," according to the ratings firm. "That said, the payment demand will not likely constitute a default event yet."
China Aoyuan Downgraded to C by Fitch (3:13 p.m. HK)
Long-term issuer default rating was downgraded by Fitch Ratings to C from CCC-, with its senior unsecured debt rating also suffering an identical cut. 
"Default or default-like process has begun, based on the company's announcement that it has not made payments or reached an agreement with creditors regarding its offshore financing, after it received notice from creditors demanding payment on financings with principal amount of around $651 million following recent rating actions by rating agencies," Fitch said in a statement. 
Evergrande Bondholders Yet to Receive Coupon Payments Due Monday (2:29 p.m. HK)
Some Evergrande bondholders had yet to receive overdue coupon payments by the end of a month-long grace period, signaling a possible default by the developer as it prepares for one of China's largest-ever debt restructurings.
Two holders of the dollar notes sold by the Scenery Journey Ltd. unit said they hadn't received the payments as of 12:30 a.m. New York time Tuesday. The coupons -- $41.9 million for a note maturing in 2022 and $40.6 million for a bond due the following year -- were initially due Nov. 6, with a 30-day grace period. The holders spoke on condition of anonymity to discuss private investments.
Evergrande didn't immediately respond to a request for comment. 
China Property Stocks Surge as Policy Makers Shift Toward Easing (11:40 a.m. HK)
Shares of China's real-estate developers jumped after policy makers moved to expand support for the economy as a property-market downturn threatens to hamper growth into next year.
A Bloomberg gauge of Chinese developers rose 3.2% to its highest since Nov. 19 after President Xi Jinping oversaw a Politburo meeting on Monday that concluded with a signal of an easing in curbs on real estate. The People's Bank of China also on Monday said it will reduce most banks' reserve requirement ratio by 0.5 percentage point next week, releasing 1.2 trillion yuan ($188 billion) of liquidity.
China High-Yield Dollar Bonds On Track for First Gain in a Week (10:28 a.m. HK)
Chinese high-yield dollar bonds rose as much as 2 cents on the dollar Tuesday morning on signs of possible easing, according to credit traders.
The notes are on track for the first gain in a week after a 0.2 cent drop Monday, a Bloomberg index shows
Logan Group, Shimao Raise Cash in Discounted Share Sales (8:32 a.m. HK)
Logan Group Co. sold 172 million new shares at HK$6.80 each, a 9.9% discount to their last close on Monday, raising HK$1.17 billion ($150 million). The proceeds are earmarked for project investments and general working capital purposes.
Shimao Group Holdings Ltd. also raised HK$1.17 billion from the sale of 145 million shares at HK$8.14 each to raise funds for debt repayments and general purposes. The offer price is about 8.5% below the last close of HK$8.90.
Kaisa Fails to Deliver Flats, Pay Wages in Guangzhou: CCTV (8:26 a.m. HK)
Kaisa is unable to deliver some residential projects to buyers and fails to pay salaries to some workers in Guangzhou, state broadcaster CCTV reported. 
About eight projects have been halted, CCTV reports, citing the workers.
Guangzhou R&F to Sell Stake in Properties to Blackstone Funds (7:39 a.m. HK)
Guangzhou R&F Properties Co. agreed to sell its stake in properties located in Guangzhou International Airport R&F Integrated Logistics Park to an investment company affiliated with Blackstone.
The Blackstone-affiliated funds held a 70% stake in the properties, while Guangzhou R&F owned 30% before the transaction.
China Property Prices Expected to Remain Steady in 2022: News (6:57 a.m. HK)
China's property prices are expected to remain "steady" in 2022, with the industry likely to see stable development, Shanghai Securities News reports, citing real estate research firm China Index Academy.
Second-hand home transaction volume in 50 Chinese cities saw about 2% growth in November from the previous month, the report said citing data compiled by KE Holdings Inc.
Kaisa Creditors Offer Forbearance to Avoid $400 Million Default (12:32 a.m. HK)
A group of Kaisa bondholders have sent the company a formal forbearance proposal, designed to buy the beleaguered property developer some time and avoid a default.
The creditor group, which is being advised by Lazard Ltd., sent the offer to Kaisa on Monday evening in Hong Kong, according to two people familiar with the matter. Kaisa declined to comment on the proposal.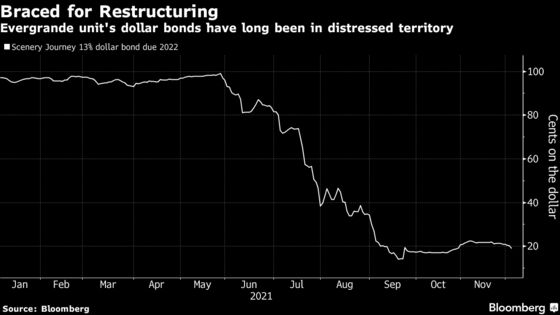 Evergrande Board Sets Up Risk Committee Amid Financial Struggles (7:31 p.m. HK)
The property developer's board established a risk management committee "in view of the operational and financial challenges" it is facing.
The panel has seven members, led by Chairman Hui Ka Yan, also includes Evergrande CFO Pan Darong and five people from outside Evergrande: Liu Zhihong, Zhao Limin, Li Feng, Chen Yong and Hao Han.
A look at Evergrande's maturity schedule:
Dollar bonds
Coupon due date
Grace period ends

Amount 

(million dollars)

TIANHL 13% due 2022
Nov. 6
Dec. 6
41.93
TIANHL 13.75% due 2023
Nov. 6
Dec. 6
40.56
EVERRE 7.5% due 2023
Dec. 28
Jan. 27 
50.43
EVERRE 8.75% due 2025
Dec. 28
Jan. 27 
204.77