Corporate America Gets More Cash-Rich, Thanks to Fed Revisions
(Bloomberg) -- U.S. businesses have a much bigger cash hoard than previously thought, at least according to new Federal Reserve data that reflect changes in methodology.
The value of financial assets held by nonfinancial companies rose to $21.8 trillion in the second quarter, the report showed Thursday. More importantly, businesses held $4.35 trillion in so-called liquid assets, which include cash, deposits, debt securities and stocks. That followed $4.38 trillion in the first quarter, upwardly revised from a $2.66 trillion figure.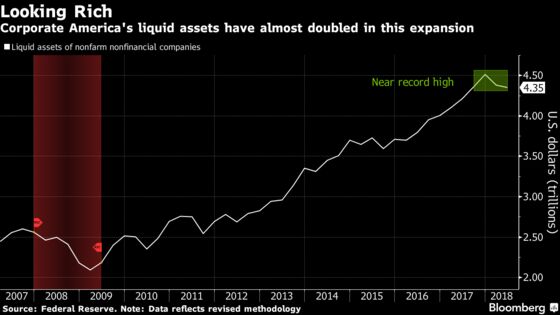 Why such a big tweak? The Fed's report has a new line showing $1.89 trillion in corporate equities within assets of nonfinancial corporations, as well as in liquid assets. Previously, company holdings of other firms' shares were "netted against" each other, according to the report. The Fed now has access to new data sources and is able to provide a better picture.
More broadly, businesses are benefiting from a reduction in corporate taxes and rising profits, putting them in an even better position to spend on investment, hiring, acquisitions, share buybacks and dividends, or just hold on to it.