Japan Considers Extra Spending Over Coronavirus's Impact on Tourism
(Bloomberg) -- Japanese Prime Minister Shinzo Abe hinted Friday that extra spending may be needed to deal with a coronavirus outbreak, after earlier in the day saying the government would bar infected people showing symptoms from entering the country.
"The priority is to prevent the virus from spreading and to bring home Japanese nationals, but I will consider the use of reserve funds if needed, depending on developments," Abe said in response to a question in parliament. He added that he would keep a close eye on the impact of the virus's spread on tourism in Japan.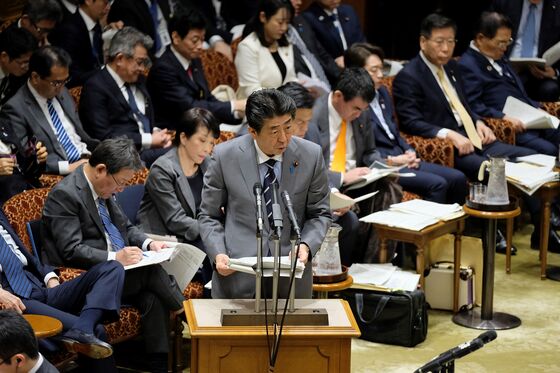 JAPAN INSIGHT: More Vulnerable to Tourism Hit on China Virus
Tourism is an increasingly important part of Japan's economy with Abe targeting an increase in visitors to 40 million this year. That target could be at risk given the likely impact on travel due to the virus.
Chinese visitors accounted for 40% of spending by foreign tourists in Japan, according to Yuki Masujima of Bloomberg Economics. Abe said that Japan will bar entry to people with symptoms caused by coronavirus infection starting from Saturday.
Abe has tapped into reserve funds recently to handle the aftermath of October's super typhoon. Use of the funds came as part of 13.2 trillion yen stimulus package to support the economy that's estimated to have shrunk in the last quarter of 2019 after a sales tax hike, the typhoon and weak overseas demand.
The government sets aside reserves each year to provide funding for disaster relief and other unexpected developments. The most recent allocations have been 500 billion yen ($4.6 billion) per year.
A spokesman at Japan's finance ministry said the ministry had made no official announcement on using the reserve funds.