The Post-Virus Recovery Will Be Copper-Bottomed
(Bloomberg Opinion) -- China's paralyzed factories, hobbled refineries and quarantined consumers have dragged copper through a record 14-day losing streak. The red metal looks to have further to fall: The spread of the virus may not slow for weeks, and production lines could easily remain shuttered beyond Feb. 9. But when convalescence comes, it's the commodity most likely to benefit.
While there's no certainty over which levers Beijing will pull to get the economy moving again, hefty stimulus is inevitable. The government, after all, has a target of doubling the size of the economy this year compared to 2010. The good news for copper is that almost any combination of measures will include a boost in demand for a metal used in power, manufacturing and consumer goods. 
For now, the picture is bleak. The virus, which has already infected more than 28,000 people and killed 563, has battered the world's top importer of most commodities. The Baltic Dry Index, a gauge of demand for vessels, is near a four-year low. Copper, which tends to reflect levels of confidence in the global economy, has underperformed most other metals, falling 7% so far this year. Iron ore, used to make steel, is among the few materials that have done worse.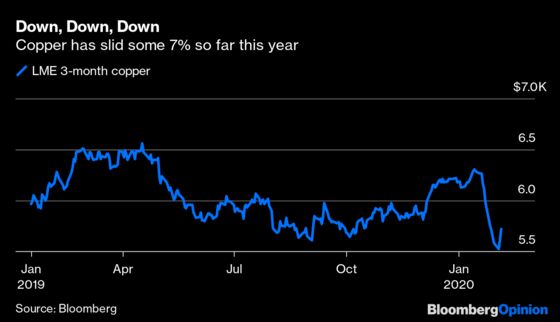 It's not hard to see why. Two-thirds of the Chinese economy has been put on pause. Smelters are cutting back as stocks pile up. State Grid Corp. of China, the country's top buyer of the metal, has postponed tenders for construction projects and material purchases. The consumer economy is no better: The stark warning on Thursday from Yum China Holdings Inc., which operates Pizza Hut restaurants in the country, will be followed by similar pronouncements from others. A slump in property sales augurs badly for everyone from developers to the makers of appliances, and carmakers are set for the worst ever January and February. 
There's still room for more gloom. Consider that while there has been an increase in copper short positions by money managers, the latest Commitments of Traders Report published by the U.S. Commodity Futures Trading Commission suggests levels are still modest compared to last year's squeeze. A price bounce in recent days looks premature.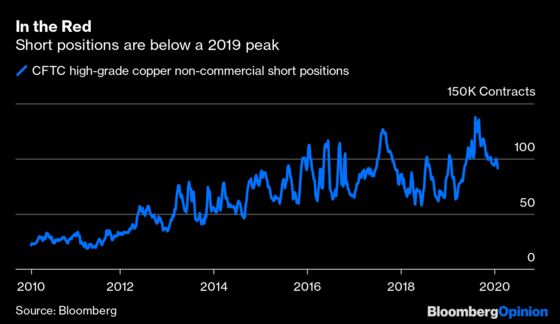 Yet epidemics come to an end. Copper is highly correlated to China's gross domestic product growth and, even more, to manufacturing confidence as measured by the purchasing managers' index. As a bellwether, it suffers on the way down, but reaps the rewards on the way up.
There are two more concrete reasons to favor the metal. First is the changing shape of China's stimulus efforts. The world's second-largest economy was cooling even before this hit, squeezed by a two-year trade war. That means the liquidity injection intended to cushion markets this week is only the start. Yet Beijing cannot simply splurge its way out of trouble by building bridges and airports again, given the painful debt hangover left by past slowdowns. Moves in 2019 suggest that efforts this time will involve liquidity for the job-creating private sector, and help for consumers, with tax cuts and incentives to get families buying goods like cars. That's all good news for copper, after two consecutive years of contracting sales in the world's largest vehicle market.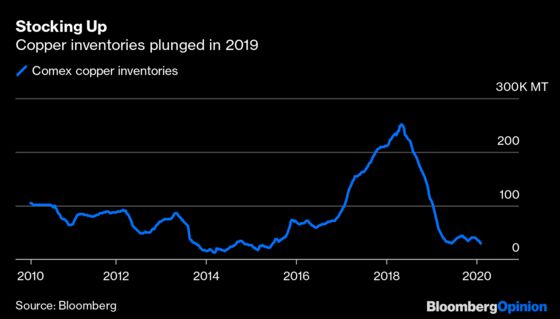 Second, copper will go into an upswing with low inventories, at least according to exchange data. Manufacturers have mostly let stocks run down, too. Any rebound, then, may well be supported by restocking.
The longer-term trends will also help. Electric cars require four times as much copper as regular ones, and mines are aging fast. Copper could soon look far shinier.
This column does not necessarily reflect the opinion of Bloomberg LP and its owners.
Clara Ferreira Marques is a Bloomberg Opinion columnist covering commodities and environmental, social and governance issues. Previously, she was an associate editor for Reuters Breakingviews, and editor and correspondent for Reuters in Singapore, India, the U.K., Italy and Russia.