Crop Futures Extend Gains With Corn Climbing to Six-Year High
(Bloomberg) -- Corn capped its longest-ever rally and soybeans broke above $13 a bushel for the first time since 2014, propelled by optimism for strong demand next year and ongoing supply concerns from Latin America. Wheat climbed to a six-year high.
The rally in corn extended to a six-year high as Argentina temporarily suspended export licenses for the grain set to ship before March 1, to maintain adequate domestic animal-feed supply. Soybeans recovered from an earlier 1.2% decline after workers ended a strike in Argentina that has held up exports from the world's largest shipper of soy products.
However, some maritime workers are on strike, affecting operations at certain terminals. The labor dispute is likely to limit how much soy was processed into meal and oil, which has already dropped to the lowest in a decade, according to the Rosario Board of Trade.
Soybeans' move above $13 during a thinly traded year-end holiday week underscores a bullish demand outlook. China's need for oilseed imports is bumping up against concern that global supply will come up short due to rain-thirsty crops in South America.
"Forecasts suggests dryness will continue to favor southern Brazil and Argentina," Tom Fritz, partner at Chicago-based EFG Group LLC, said by phone.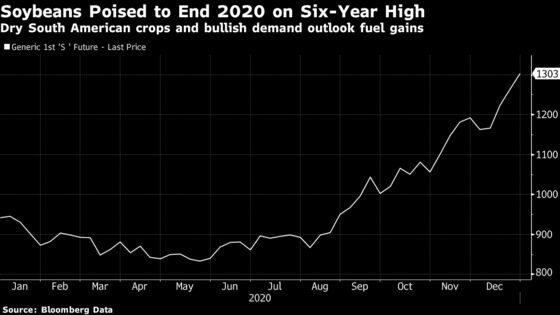 For soybeans to stay above that level, the market will need to see a strong weekly export sales report from the U.S. Department of Agriculture on Thursday, Jacquie Holland, an analyst at Farm Futures, said in an interview.
We need to see "minimal cancellations to keep prices at that level, especially now that the Argentine oilseed workers strike is over," Holland said.
READ MORE: Bloomberg survey of analyst expectations ahead of the USDA export report
The Argentina labor strife that started earlier this month boosted prices and delayed shipments of some agricultural products. It has now ended after an agreement that includes a 35% salary increase in 2020, though it will take weeks for shipments to catch up, according to The Hightower Report.
If Argentine output declines, buyers could turn to the U.S. for more supplies, further depleting ending inventories already seen as being tight, according to the report.
Soymeal futures touched a four-year high on the Chicago Board of Trade, while soyoil reached the strongest level in six years.
A U.S. plan to halt imports of palm oil from Malaysia's Sime Darby Plantation Bhd, the world's largest palm plantation company, over claims of worker abuse may provide "some underlying support" for rival soy oil, according to Fritz.
In other crops, wheat in Chicago jumped 3.6% to the priciest level since 2014.
Corn in Chicago rose for a 13th trading session, the longest winning streak since 1959, according to data compiled by Bloomberg. It's heading for the biggest annual gain in a decade on China's resurgent demand and the adverse weather in South America.
Traders are "already anticipating a bullish report" on Jan. 12, when the USDA issues its next global supply and demand outlook for the crop, Fritz said. "The higher the market goes, the more buying it attracts."
In soft commodities, cocoa for March delivery jumped 3.6% in New York, while raw sugar for March rose 1.6% and cotton climbed 1.3%.
Prices and Drivers
Corn for March rose 1.8% to $4.745 a bushel.
Wheat rose 3.6% in Chicago, reversing an earlier decline.
Argentine Tugboat Operators Striking; Affects Some Docks
U.S to Halt Palm Oil, Product Imports From Sime Darby Plantation