Italy Announces $28 Billion Plan to Cushion Virus-Hit Economy
(Bloomberg) -- Italian Prime Minister Giuseppe Conte's government is ready to spend as much as 25 billion euros ($28.3 billion) on stimulus measures to shield the economy from Europe's worst outbreak of the coronavirus.
Finance Minister Roberto Gualtieri said the cabinet is likely to approve a first package worth about about 12 billion euros by Friday. The rest will be a reserve to pay for any further measures, he said in a joint press conference with Conte on Wednesday. The government will ask parliament to increase the country's deficit targets by 20 billion euros, he said.
The provisions under discussion include help for workers facing temporary layoffs, boosting a guarantee fund for loans to small- and medium-sized companies, compensation for firms whose turn over has plunged more than 25% and some form of moratorium for business and personal mortgage repayments, according to two officials who declined to be identified discussing confidential deliberations. Gualtieri said assistance to renters is also under consideration.
Speaking to lawmakers on Wednesday, the finance minister said there may be a meaningful impact on Italy's gross domestic product over the next few months, declining to be more specific. Output may contract 7.5% in the first quarter, compared with the prior three months, JPMorgan analysts including Michael Hanson wrote in a note to clients. They see a modest pickup in the second quarter, and a full rebound in the third.
Conte, who has decreed a nationwide lockdown to counter the spread of the virus, is under pressure from governors in the rich north, the worst affected area, who want more drastic measures. Opposition leader Matteo Salvini of the League party is pressing for 50 billion euros to be spent on the economy. In an interview with Il Sole 24 Ore, he called for a Europe wide lockdown to prevent other countries from waging economic war on Italy.
Conte joined a video conference with the other EU leaders Tuesday and appealed to them to show the same determination and solidarity that they showed during the euro crisis. A spokesman for the Italian Finance Ministry declined to comment.
The Italian FTSEMIB Index gained as much as 3% in Milan but later slipped into negative territory as the spread between the 10 year Italian government bonds and their German equivalent narrowed by 4 basis points to 207.
With the number of confirmed cases in Italy passing 10,000, Conte called on the European Central Bank to help shore up the economy, according to one European official, who spoke on condition of anonymity. The premier even evoked the "whatever it takes" language that came to symbolize the institution's key role in stabilizing the euro area in 2012, the official said.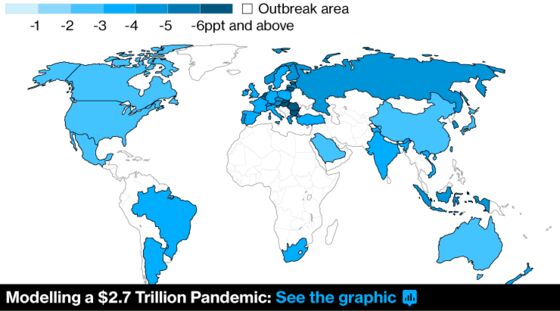 Conte is wrestling with an unprecedented economic and health crisis that is threatening to overwhelm hospitals in the industrial engine room of northern Italy and is set to tip the country into a brutal recession.
The double threat puts the 55-year-old premier in an unenviable bind: the tougher his measures to contain the virus, the greater the punishment for an economy that had already started contracting in the fourth quarter.
The Italian premier is open to a proposal to shut down all non-essential businesses in the Milan region, including public transportation and all non-food stores, Il Corriere della Sera reported. The Italian cabinet is meeting Wednesday to review the stimulus package and other measures.
On Monday, Conte signaled he'd asked the EU for more leeway over spending rules and ordered a nationwide lockdown in an effort to stem the contagion. It's still not clear whether those measures will be enough, with the death toll rising to 631 on Tuesday.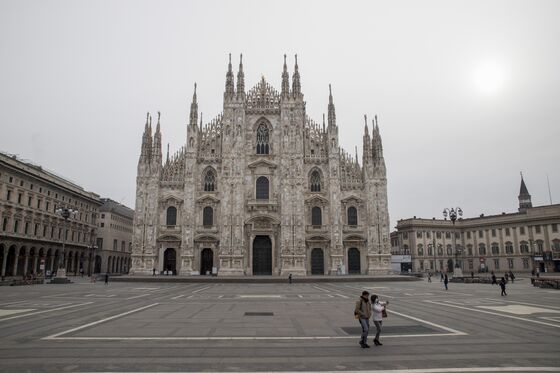 "We are thinking of preparing -- though nothing is decided -- a request for a somewhat higher sum," he said. "This doesn't mean that this possibility would be used straight away."
The European leaders who joined Conte on Tuesday's two-and-a-half hour call pledged to use all available tools at their disposal including bending fiscal and state-aid rules to shield the bloc's economy from the impact of the coronavirus outbreak. But they stopped short of declaring the coordinated fiscal stimulus program that Conte and French President Emmanuel Macron were demanding.
Spain, which will shutter schools in and around the capital Madrid from Wednesday, will offer credit lines and delayed tax timetables mainly for small- and medium-sized firms, Prime Minister Pedro Sanchez said in his own press conference. There will also be specific measures for the tourism and transport sectors, he said.