Consumer Credit in U.S. Jumps in May by Most in Six Months
(Bloomberg) -- U.S. consumer debt rose in May by the most in six months on more credit-card debt outstanding and non-revolving loans, Federal Reserve figures showed Monday.
Highlights of Consumer Credit (May)
Total credit increased $24.6b (est. up $12b) and prior month revised up to $10.3b gain (prev. $9.3b)
Revolving credit outstanding climbed $9.8b m/m, after a $1.1b rise in April
Non-revolving debt outstanding rose $14.8b m/m after $9.2b increase
The increase in revolving debt, which includes credit cards, shows consumers were spending more freely midway through the second quarter. After slowing in March to recoup from a debt- laden fourth-quarter, households picked up the pace of credit in consecutive months.
The rise in non-revolving debt, which includes educational and auto loans, partly reflects steady motor-vehicle sales. The Fed's consumer credit report doesn't track debt secured by real estate, such as home equity lines of credit and home mortgages.
The results signal a modest acceleration for second-quarter spending amid recent tax cuts and a robust labor market. Still, moderate wage gains may encourage households to be more conscious about taking on too much debt.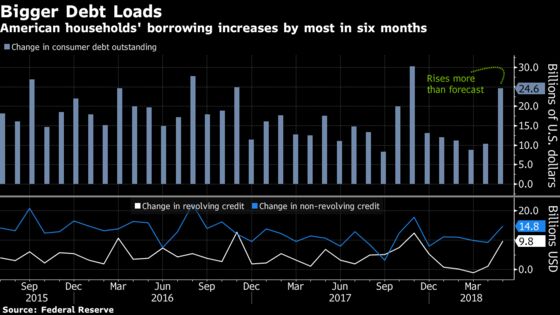 Lending by the federal government, which is mainly for student loans, rose by $4.1 billion in May, before seasonal adjustment
Credit increased at a seasonally adjusted annual rate of 7.6 percent after 3.2 percent in April