Commodity-Related Currencies Hammered as Risk-Off Returns
(Bloomberg) -- Four commodity-linked currencies tumbled at least 1% as oil and copper slid on worry that a deadly virus will hobble global economic growth.
Chile's peso, the Russian ruble, Colombia's peso and the South African rand led losses as a rebound in appetite for risky assets proved short-lived. The Australian dollar also slipped to a decade low against the greenback.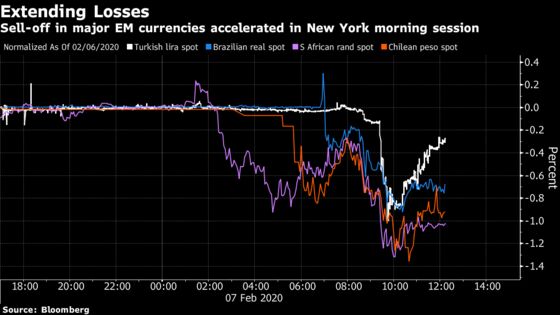 The Federal Reserve Board said the outbreak presents a risk to the economic outlook for the U.S. and warned of its impact on global markets as luxury retailer Burberry Group Plc and Apple Inc.'s iPhone maker Foxconn reported disruptions to their business tied to the illness.
Emerging-market currencies held losses even after the U.S. reported stronger-than-expected hiring numbers, a sign of economic strength that had been expected to offset woes about a China slowdown. JP Morgan's index of emerging currencies plunged to its lowest in at least a decade of record-keeping, and MSCI Inc.'s gauge posted its biggest loss since August.
"With global growth momentum being weighed down by clear disruptions in trade, manufacturing, and broader economic activity, the commodity exporters have been disproportionately hurt," said Phoenix Kalen, a strategist at Societe General SA in London. The Russian central bank's dovish tone helped push down the ruble slide, while in South Africa, traders are cautious ahead of a budget announcement, she said.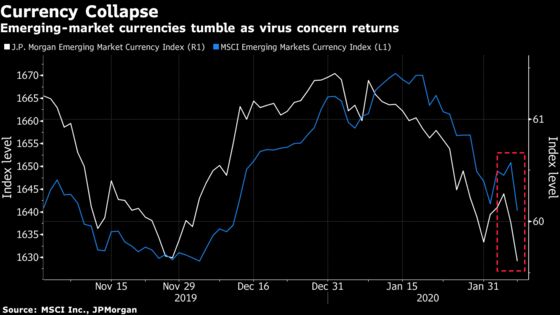 Confirmed cases worldwide passed 31,400 after jumping by more than 3,000 in one day, while the death toll reached 638. Singapore boosted its disease response to the second-highest level, the same as during the SARS epidemic.
"People are concerned that we wiped out coronavirus related losses too quickly when the reality is that we haven't seen the end of the impact," said Christian Lawrence, a New York-based strategist at Rabobank.