Coffee Surges on Persistent Crop Concerns in Top Supplier Brazil
(Bloomberg) -- Arabica coffee futures snapped a three-session slump on revived concerns about limited world supplies due to adverse conditions in top grower Brazil.
Drought and frosts that hurt plants during the past year are continuing to affect the outlook, while recent heavy rains have also triggered crop damaging fungus. That's on top of severe pruning by growers, in some cases bringing the trees all the way down to a stump, which may delay crop recovery by one to two years.
Brazil's arabica output in 2022-23 could reach 33.7 million to  38.7 million bags, according to market analysts Judy Ganes and Shawn Hackett. That's well below the 48.8 million bags collected in the last comparable cycle in 2020-21, they said. Coffee crops fluctuate every two years between a high- and low-yielding cycle.
Arabica coffee for March delivery jumped 3.1% to $2.0865 a pound, for a year-to-date gain of 63%. Costs have been compounded by logistics snarls keeping beans from being shipped, including in Vietnam, the top shipper of the robusta coffees used in instant beverages.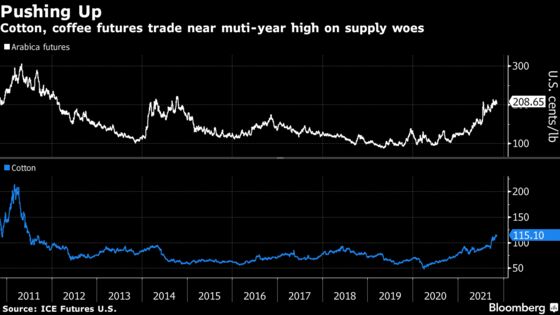 For farmers who lost crops this year, surging fertilizer prices are hurting cash flows even further. The real is also weak, which means purchasing power for imported fertilizer is the worst in ten years, according to Renato Garcia Ribeiro, researcher at the University of Sao Paulo. 
Higher coffee prices may not compensate for lower productivity, resulting in more indebtedness, he said.  
Elsewhere, cotton's most active March futures advanced 1.7% to close at $1.1519 a pound in New York, a third gain. The fiber is up 47% year-to-date on two projected world deficits. 
The U.S. Department of Agriculture on Tuesday boosted its projection for world 2021-22 production and consumption. While the agency left estimates for American supplies little changed from October, it cut global stockpiles, including a significant reduction for top producer India as its domestic use climbs. Meanwhile, stockpiles at ICE-monitored depots continued their decline, and are now down 77% this year.