Coeure 'Stands Out' in Race to Succeed Draghi at ECB, ABN Says
(Bloomberg) -- ABN Amro said their preference for who should succeed European Central Bank President Mario Draghi is one of the people most closely involved in his current policy making.
Benoit Coeure, an Executive Board member who has been in charge of market operations since 2012, "stands out" and is the "most suitable candidate," ABN Amro's Nick Kounis said in a note. While commercial banks have no say in the appointment -- it's a decision for governments -- he argues Coeure would be seen by other policy makers as pragmatic and centrist, helping him build consensus in the Governing Council.
Draghi's term ends in October 2019 and a successor is likely to be chosen by the middle of next year. Peter Praet, the institution's chief economist, will hand over his post in May, and ABN Amro hopes it will go to Irish central-bank governor Philip Lane.
Coeure featured in a Bloomberg survey on the ECB succession earlier this year, though he was only in sixth place behind figures including Finland's Erkki Liikanen, Francois Villeroy de Galhau of France and Lane.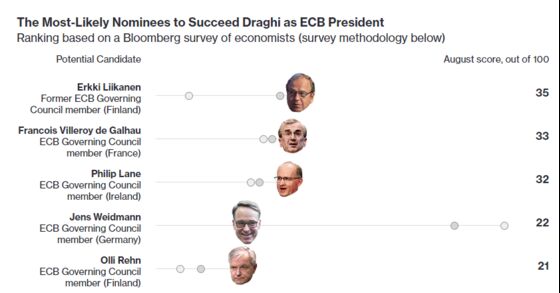 "If Benoit Coeure were to become ECB President - with Philip Lane being appointed chief economist -- the leadership would be perhaps somewhat less dovish than the current Draghi-Praet double act," Kounis wrote. "However, we still judge there would be a great deal of continuity in terms of the ECB's reaction function."
Kounis says he wouldn't expect the ECB to raise interest rates next year if his preferred duo is appointed, and that reinvestments of maturing debt under the institution's asset-purchase program would continue at least until the end of 2021.
One potential obstacle to Coeure is that he's already a member of the ECB Executive Board, with a non-renewable eight-year term. But Kounis notes the restriction may only apply to the specific role on the board, giving leeway to start a new term in a new job.