Clues in RBA Tightening Cycles Signal Rates Could Hold Past 2020
(Bloomberg) -- The Australian central bank's lackluster wage-growth outlook indicates it may have to leave interest rates on hold even beyond 2020.
Annual pay rises won't get above around 2.75 percent for at least the next two years, the Reserve Bank projects. That's about 1 percentage point less than the wage growth levels achieved when it last began raising rates in 2009, and well short of gains prior to the four other tightening cycles since 2000.
The wage increases before previous cycles "are much faster growth rates than the RBA is expecting by end-2020," said Bill Evans, chief economist at Westpac Banking Corp. The central bank may have to continue saying "'there was no strong case for a near-term adjustment in monetary policy' for a lot longer than is commonly assumed."
The focus on Australia's next hike has sharpened after a surge in economic growth and drop in unemployment -- key drivers of higher wages and faster inflation that the RBA says it requires before moving. But developed nations are finding their labor markets need to tighten far more than previously to spur sustained pay gains; Governor Philip Lowe has signaled a jobless rate closer to 4 percent -- from the current 5 percent -- might be needed.
As it stands, 10 of 25 economists surveyed by Bloomberg expect a rate hike by the end of next year, while swaps traders see a less than 50 percent chance after the currency rose more than 3 percent last month. They all expect the cash rate to stay at 1.5 percent when the central bank convenes Tuesday for its final board meeting of the year, followed by a two-month hiatus until February.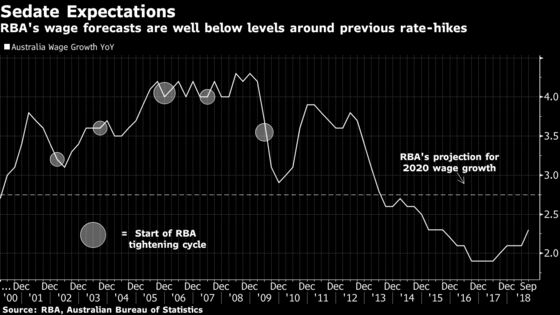 Lowe has said he only sees rates rising in an environment of growing incomes, so that households can manage the increased costs. Meanwhile, tighter lending rules means the RBA is less worried about its record-low cash rate inflating asset prices. So it's using low borrowing costs to push the accelerator on growth and tighten the labor market so that employers are forced to offer higher pay.
Average wage growth after inflation Down Under has been just 0.1 percent for the past five years, according to Callam Pickering, an economist at global jobs website Indeed. With a household debt-to-income ratio of 191 percent -- among the highest in the world -- the central bank's policy caution is warranted.
Pickering says there's still plenty of slack in the labor market given the under-utilization rate -- which combines unemployment and underemployment -- is at 13.3 percent. He reckons it will need to fall to around 12 percent to really push wages higher, but even that level may have less impact due to changes in the workforce: lower union membership, more workers in lower paid jobs and the rise of casualization.
"Early evidence indicates that wage growth in the future is unlikely to reach the level that was considered normal before the global financial crisis," Pickering said when launching his report into low wage growth in Sydney last week. "Three percent wage growth is likely to be the new 4 percent in Australia."