CLSA Sees India's Low Interest Rates as Key Demand Driver
(Bloomberg) -- The Reserve Bank of India's low interest rate regime will continue to support demand in the economy, even as authorities scale back pandemic support, according to CLSA India Economist Indranil Sen Gupta.
"Of course, RBI will tighten, but rates are so low that lending rates will take some time to react to that," Sen Gupta, who worked with the RBI as a staff economist in the past, said in an interview to Bloomberg TV's Haslinda Amin and Yvonne Man. "That will be a major driver of consumption demand going into next year."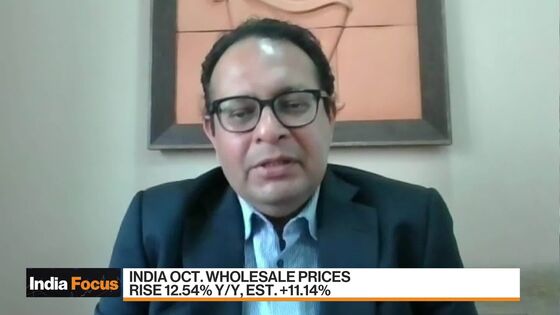 In a survey by CLSA, 70% of the respondents said they look at lending rates as the "key reason" for availing loans. Sen Gupta sees RBI retaining an accommodative stance for now, while continuing to withdraw surplus liquidity. The government can't incur a fiscal expenditure like last year, but the recent cut in fuel taxes and a good harvest will also help economic recovery, he said. 
The central bank is scheduled to review monetary policy from Dec. 6-8 and most economists are expecting a status quo on rates even as inflationary pressures are rising.
"They may do more aggressive reverse repo operations," Sen Gupta said. "From April, we think RBI may begin to raise rates. We see 100 basis points hike in rates in the next fiscal year."