Fed Highlights Scope for More Action If Reopening Economy Stalls
(Bloomberg) -- Federal Reserve Vice Chairman Richard Clarida said officials would likely turn to additional forward guidance and asset purchases if the economy needs more aid, as another official warned of the risk from rising Covid infections.
"We have a lot of accommodation in place. There is more that we can do. There is more that we will do if we need to," the Fed's No. 2 said in an interview Tuesday on CNN International.
In terms of extra tools, Clarida cited "additional forms of forward guidance that the Fed has used in the past and we would consider using in the future" as well as noting current Fed purchases of Treasuries and mortgages to support market functioning, while adding "there's more that we could do in terms of our balance sheet as needed."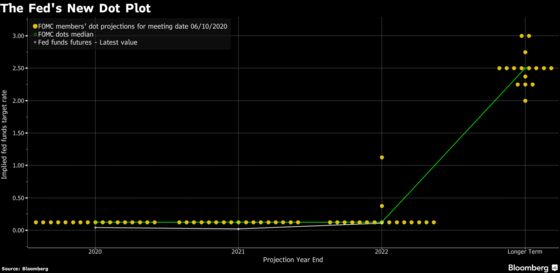 Fed officials held interest rates near zero at their meeting in June and signaled they would keep them there through 2022. Minutes of the June 9-10 gathering showed officials saw the economy needing support "for some time" and that they favored a more explicit form of forward guidance on the future path of rates and bond buying. The central bank meets again at the end of this month.
Recent data has come in better than expected, including the addition of 4.8 million jobs in June. But a rise in coronavirus infections shows the risk of setbacks as the economy reopens from pandemic lockdown.
"We have seen an increase in cases in certain large states. We are not epidemiologists. We are following it closely," said Clarida, who added that a so-called double-dip recession was not the central bank's base-case outlook. "The course of the economy is going to depend on the course of the virus."
Atlanta Fed chief Raphael Bostic, in remarks earlier Tuesday, cautioned that the renewed spread of Covid-19 may be threatening the pace of the U.S. recovery, as businesses and consumers put plans on hold.
"People are getting nervous again," Bostic said Tuesday during a virtual discussion hosted by the Tennessee Business Roundtable. "Business leaders are getting worried. Consumers are getting worried. There is a real sense that this might go on longer than we had hoped and we had expected and we had planned for."
Congress is debating more stimulus measures amid a resurgence of the coronavirus, which the White House is pushing for before the lawmakers' August recess. The $600 weekly in additional unemployment benefits that were passed as part of the March $2 trillion CARES Act are set to expire at the end of the month.
"If we don't get further fiscal support, things won't come back as well as they could," Cleveland Fed President Loretta Mester told CNBC television in an interview later Tuesday. With disruption from the virus lasting longer than expected, "this is a period where we need to be supporting both individuals and businesses who but for the pandemic would have been healthy," she said.