Clarida's Inflation Expectation Index Came In Looking Pretty Low
(Bloomberg) -- Federal Reserve Vice Chairman Richard Clarida parses inflation expectations carefully for a hint at where prices are headed. A new University of Michigan report may offer him little comfort.
The gauge's 5-to-10-year inflation outlook has been "within -- but I believe at the lower end of -- the range consistent with price stability," Clarida said in a Nov. 27 speech. That was a slight downgrade from the language he used in October, when he said simply that "survey-based measures of inflation expectations also appear consistent with the Fed's inflation goal."
Preliminary data out Friday showed that the Michigan index that Clarida cited eased back to 2.4 percent this month after coming in at 2.6 percent in November. If he's worried about it coming in on the low side of acceptability, there's no sign that it's headed up.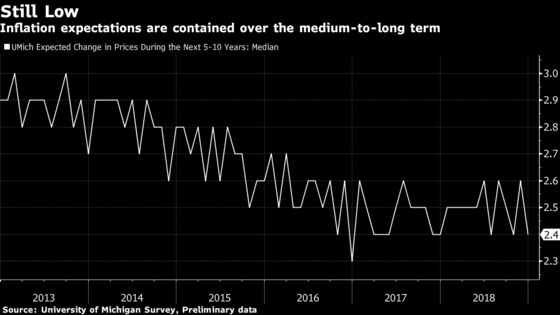 The Fed is carefully monitoring inflation as it tiptoes forward with rate hikes. While price gains achieved the Fed's 2 percent goal this year, many officials aren't ready to declare victory before they're sure that they can hit the target on a sustained basis after years of missing it to the downside.
"In recent decades, the asymmetry has been toward disinflation forces," Clarida said in an interview with Bloomberg TV this week. Asked about the price impacts of globalization, he said that "we are in a world where central banks, including the Fed, are focused on keeping inflation away from disinflation."