Citigroup's Catherine Mann Named to BOE Rate-Setting Panel
Catherine Mann, a former chief economist at Citigroup Inc. and the OECD, will become a policy maker at the Bank of England from September, bringing international experience to the central bank as it weighs when it recalibrate its easy-money stimulus.
Mann will replace Gertjan Vlieghe, whose term expires in August, on the Monetary Policy Committee, according to a statement from the U.K. Treasury, which names the external members of nine-member interest-rate-setting panel. Jonathan Haskel was also granted a second three-year term.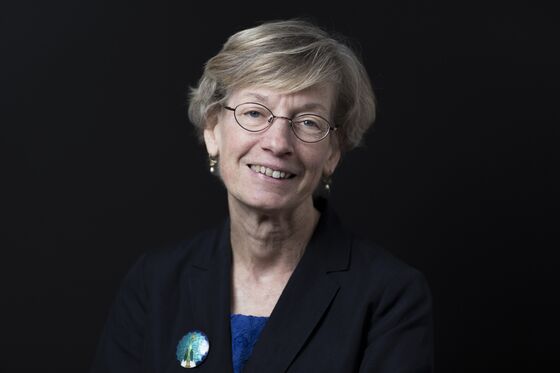 Changes to the MPC will help shape policy as Governor Andrew Bailey and colleagues weigh when to shift their focus from supporting growth to controlling inflation. The U.K. economy is bouncing back strongly after the worst recession in three centuries, prompting economists and investors to debate when interest rates will have to rise.
"Her role at the OECD will give her a broader perspective," said Andrew Sentance, a former member of the MPC. "Pure academics struggle a bit."
Mann's previous roles at the World Bank and Organization for Economic Cooperation and Development leave her with a sensibility about poverty and climate change, both hot-button issues for central banks. She also worked at the White House under President George H.W. Bush and the U.S. Federal Reserve, an experience that sets her apart from some of the academic economists that preceded her.
Naming Mann fills one of two key vacancies at the BOE this summer. Andy Haldane, the BOE's chief economist and most vocal supporter of dialing back its ultra-loose policy, departs at the end of this month.
The appointment will also increase diversity at the central bank, which currently has just one woman, Silvana Tenreyro, on the MPC and missed its targets for female representation in senior management.
"Catherine's a star -- it's hard to think of a more qualified person," said Danny Blanchflower, a former MPC member and economics professor at Dartmouth College in the U.S.
A Citi research report co-authored by Mann this month highlighted how inflation concerns "run hand-in-hand with supply chain concerns" across major economies. The report said it was too early to call whether there are "spillover effects of supply-side constraints and inflation pressures across different sectors" in the U.S., where consumer prices have accelerated at the fastest pace in more than a decade.
In February, she tweeted that it was hard for inflationary pressures to be sustained without "broad-based, systematic tightness in labor and product markets."
Striking that balance will be key for the BOE's assessment of the economy as the government prepare to unwind wage support. Vlieghe, whom Mann is set to replace, flagged the possibility of a rate hike as early as next year in an "upside" scenario but said higher unemployment could undermine such view.
But while the recent surge in U.K. inflation is also more modest than the U.S., there's growing concern it may be more persistent. Haldane has warned that higher prices may prove more sticky than the bank expects and that policy makers need to think about action.
"It's too early to say what the ultimate composition of the MPC will look like," said Valentin Marinov, head of group-of-10 foreign exchange research & strategy at Credit Agricole CIB. "A potential dominance of the doves could mean that the BOE will continue to look through the latest surge in inflation and maintain its cautious, less hawkish medium term outlook."
The U.K. has a track-record of appointing foreigners to its central bank. Canadian Mark Carney served as governor until last year, and Americans Adam Posen, Kristin Forbes and DeAnne Julius also sat on its MPC at different times.
Mann's appointment also means that Citigroup will now have two alumni on the committee. Michael Saunders, who joined the bank in 2016, was previously the bank's chief U.K. economist.
Mann studied economics at Harvard University under Janet Yellen, who went on to lead the Fed and U.S. Treasury, and international trade economist Rachel McCulloch.
After graduating from Harvard, Mann got her doctorate at Massachusetts Institute of Technology, where her thesis committee included the economist and future Nobel laureate Paul Krugman.
"She is a classic central banking candidate," said Rishi Mishra at Futures First. "Not sure if I can describe her as a dove or a hawk though. So will have to go with centrist."