Citi Adds Hong Kong, Singapore Shares on 'New Business Cycle'
(Bloomberg) -- More traditional companies in Hong Kong and Singapore are set to benefit from a "new business cycle" globally as their economies recover from the pandemic, according to Citigroup Inc.'s private-banking arm.
Cyclical and undervalued stocks will outperform in both jurisdictions supported by fiscal stimulus, with Hong Kong probably coming out of a yearlong recession this quarter, Ken Peng, head of Asia investment strategy, said in an interview. "Hong Kong is coming back in a rush," while "Singapore is among our top markets," he said.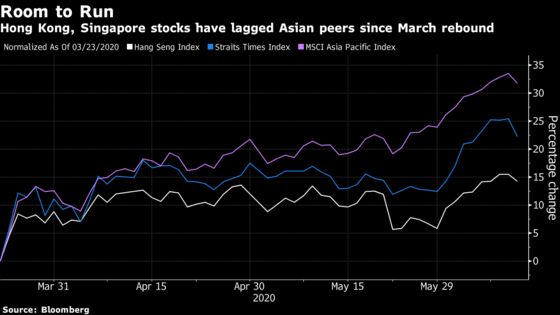 The Wall Street giant bought shares on behalf of clients in both markets in May to expand existing overweight positions. Hong Kong will be supported by easing social distancing measures, improving business activity, signs of a rebound in retail sales and a strong Hong Kong dollar amid robust capital flows, Peng said. Citi favors retail, real estate and local banks in the jurisdiction.
Meanwhile, Singapore began phasing out of a nationwide lockdown this month after providing stimulus amounting to 20% of its gross domestic product. The city-state is "very dividend-heavy, asset-heavy and has a lot of traditional industries" in the industrials, exports and the transportation segments that will "do better," he said.
Here are some other highlights from the interview:
U.S.-China tensions are going to "cool off at least before the U.S. election" and Hong Kong and Beijing will work to restore economic stability, according to Peng.
Lower U.S. interest rates, a relatively weak U.S. dollar, fatigue in the U.S. rally and an easy Fed are all "positive" for the Asia market rally.
Citi is overweight on stocks in China, Korea, Japan, Philippines, Indonesia and Malaysia; neutral on Australia, India, Thailand and Taiwan and has no underweights in Asia Pacific.
"People might be positively surprised" by the second-quarter results because some countries "forced reopening before they had the disease under control," Peng said. "The expectations of second-quarter earnings are depressed enough that they are actually pretty easy to beat."
Cash holdings of clients went up "substantially" during the Covid-19 crisis and a lot of cash still remains on the sidelines, he

noted

. "Investors are not long enough. That's why I think the rally is going to have a bit more leg to run."