Chinese Stocks Outrun Global Peers in Way Not Seen Since Bubble
(Bloomberg) -- Investors just keep piling into China's equities, driving a rebound that's now nearing $1 trillion since January and producing its first bull market.
The CSI 300 Index gained a seventh straight week, its longest streak since 2016. It's poised to outrun the MSCI All-Country World Index for a sixth time, something it hasn't done since the peak of the country's stock bubble in early 2015. All but one of the gauge's 10 industry groups are up at least 10 percent for the year. The hottest trades are only getting hotter -- stocks linked to 5G and foldable phones remain big favorites.
For all the fears around speculative trading, it's hard to find a bear out there. What's striking is that the magnitude of the weekly rally keeps increasing, a sign that conviction is getting stronger. The CSI 300 jumped 5.4 percent this week, its best performance since November 2015. Indicators of momentum confirm this: the CSI 300 remained above its 200-day moving average this week and its relative-strength index is above 70.
The crisis of confidence that shook stocks last year looks to be ending. Weekly turnover across all exchanges was the highest since September 2017 on average this week.
No sooner had state media touted a double bull market in stocks and bonds than China's government debt headed for its worst week of the year. While the slowing economy and muted inflation have spurred speculation the central bank will ease policy, investors are trimming profits on what's been a stellar run for Chinese rates and taking a flier on riskier assets instead.
The yuan was once again at the center of the trade dispute with the U.S. Officials asked China to keep the currency stable, a demand that helped make it Asia's best performer this week. Some analysts say more appreciation makes little sense in the context of a potential rate cut from the People's Bank of China.
This chart shows how almost every industry is rallying in China's equity market. Only utilities -- which are typically seen as defensive stocks with bond-like properties -- aren't being favored.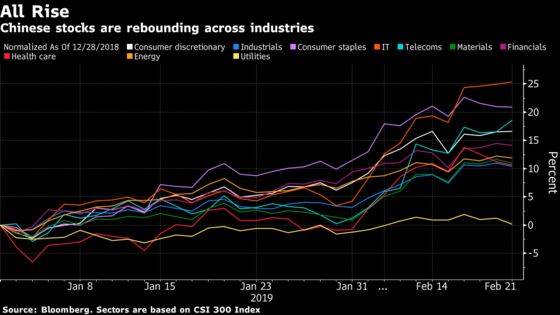 Here's what else caught our eye:
Hong Kong's central banker will retire after 10 years.
China's plan to integrate Hong Kong and Macau.
A mysterious 8,500 percent stock gain raises eyebrows.
China could buy more U.S. soybeans, corn and wheat.
But economists say higher U.S. tariffs are unavoidable.
In demand: kitchen space without tables, chairs or waiters.
Tycoon's children race to revive his casino empire.
An experiment to fix local government debt problems.
How a Chinese lender's sports deal turned sour.
Home-price growth slows for a third month.