China Industrial Profits Dragged Lower by State Firms Last Year
(Bloomberg) -- Profits at Chinese industrial enterprises dropped in 2019, dragged down by a double-digit decline at state-owned companies and losses at manufacturers.
Industrial profits slid 3.3% in 2019 from 2018, the National Bureau of Statistics said in a statement Monday.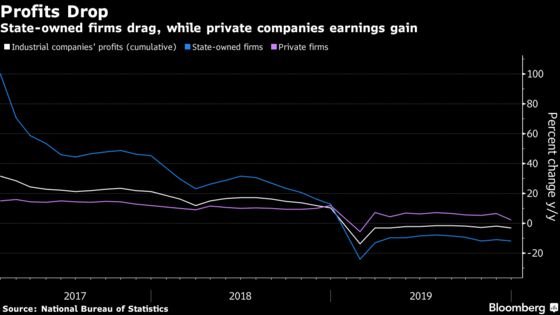 The main reasons sited by the statistics bureau were the poor performance of the steel, chemical, auto and petroleum refining sectors. Petroleum, coal and other fuel processors had the worst results, with annual profits falling about 43%. The ferrous-metal mining sector's profits rose almost fivefold.
The private sector benefited from tax cuts and financing support, among other supportive policies, the bureau said. Slowing sales of industrial products and rising raw-material costs also reduced profits, it said in a separate statement.
In December, profits dropped 6.3% from a year earlier.
The central government has told companies in many provinces to suspend work this week, extending the lunar new year break in an attempt to slow the spread of the coronavirus. That holiday will impact output and profits in January and February.