Chinese Industrial Firms See Profits Slump on Virus Impact
(Bloomberg) -- Profits of Chinese industrial companies slumped the most on record as the virus outbreak hurt business activities.
Industrial profits dropped by 38.3% in the first two months of this year compared to the same period in 2019, the National Bureau of Statistics said Friday. Profits at state-owned firms, private companies and foreign-invested business all dropped more than 30%.
The drop is due to the severe shock caused by the sudden outbreak of the coronavirus, according to a statement from NBS official Zhang Weihua. Both production and sales dropped, while profits were squeezed by rising costs and falling prices of industrial products.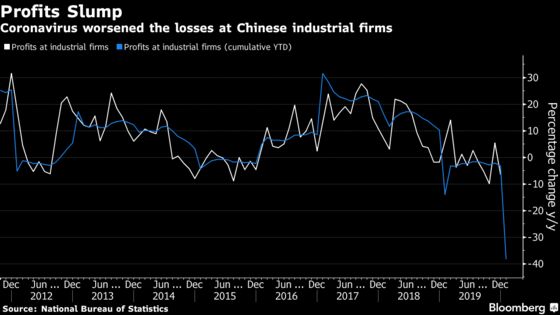 "As business resumption accelerates, the short-term shock from the epidemic will gradually be eased, and profits will be effectively improved," Zhang wrote.
The NBS releases January and February data together in an attempt to smooth out volatility associated with the Lunar New Year holiday.