Chinese Envoy Gives Taiwan Hawk Bolton a Warning on U.S. Ties
(Bloomberg) -- A top Chinese official gave National Security Adviser John Bolton a pointed warning on Taiwan, as the two sides began a round of high-level meetings to bolster relations strained by trade disputes.
Yang Jiechi -- a member of Communist Party's 25-seat Politburo -- told Bolton during a meeting at the White House on Wednesday that the status of the democratically run island was their "most important and sensitive" issue, the Chinese foreign ministry said. Still, Yang, who heads the party's foreign affairs committee, said his country was committed to a policy of "no confrontation" with the U.S.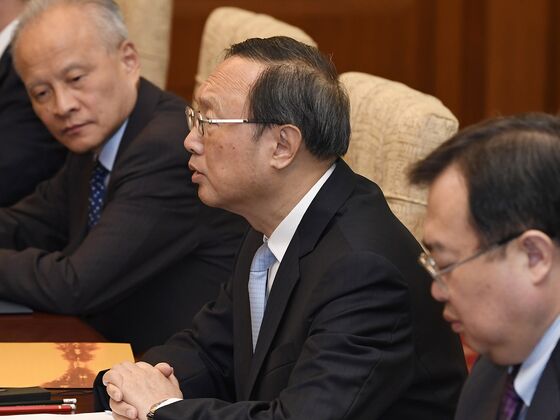 The National Security Council didn't immediately respond to a request for comment.
The meeting came ahead of Friday's U.S.-China Diplomatic Security Dialogue, which was postponed last month amid a series of disputes. While the meeting wasn't expected to deal directly with trade, other issues such as recent American efforts to bolster ties with Taiwan and military encounters near the contested South China Sea were expected to come up.
At the Friday meeting, U.S. Secretary of State Michael Pompeo will host Yang while Defense Secretary James Mattis receives Chinese counterpart, General Wei Fenghe.
Trump administration moves to support Taiwan, including sending warships through the Taiwan Strait and approving legislation to allow high-level diplomatic visits to Taipei, have drawn protests from Beijing, which considers the island a province. Before joining the administration in March, Bolton had been a prominent advocate for revisiting the U.S.'s "one-China policy," in which it acknowledges Beijing's position that Taiwan is part of China.
The policy underpinned a series of diplomatic agreements during the Cold War that led to the the restoration of U.S.-China relations in 1979. "It is hoped that the U.S. will abide by the One-China principle and the three China-U.S. joint communiques and properly handle Taiwan-related issues," Yang said.
The escalating trade conflict between the U.S. and China has prompted concerns that the world's two largest economies are headed for a broader strategic struggle. Trump and Chinese President Xi Jinping are expected on the sidelines of the Group of 20 summit that begins in Argentina later this month.
The Chinese statement said Washington was "willing to maintain close communication with China and make exquisite preparations to promote positive results from the meeting of the two heads of state."