Wuhan Test Lab Opens; CDC Ships Diagnostic Kits: Virus Update
(Bloomberg) -- The World Health Organization pushed back against suggestions of imminent breakthroughs in the development of vaccines or treatments for the coronavirus. U.S. health officials began shipping kits that can test for the pathogen, and a large new testing lab opened in Wuhan to more quickly diagnose patients.
In China's Hubei province of 60 million people, where the outbreak is centered, scenes of chaos and despair are emerging as residents cope with the modern world's largest-ever quarantine. U.S. health officials are preparing for more evacuees from the region to arrive at American military bases.
China death toll at 490; 24,324 confirmed cases, 3,219 severe
Stranded on ships, passengers play with balloons, sing
Foxconn cuts outlook, will quarantine workers; may hit Apple output
More than 7,000 held on two luxury cruise ships as virus spreads
Bloomberg is tracking the outbreak on the terminal and online.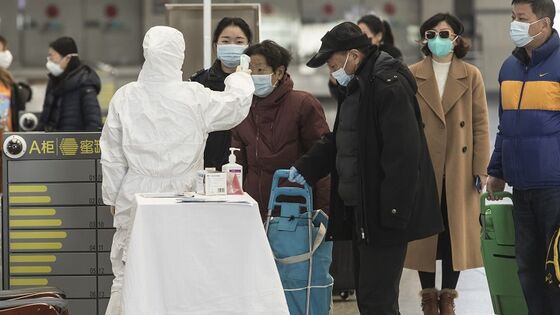 Large Testing Lab Opens in Wuhan to Find Cases (4:17 p.m. NY)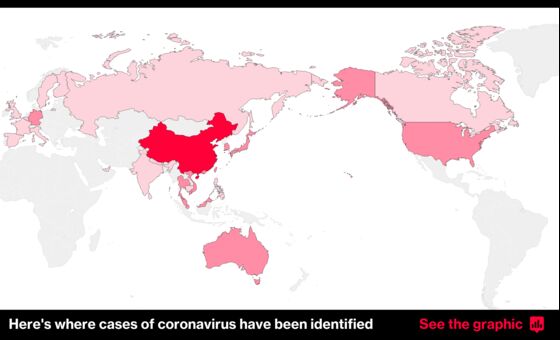 The Chinese medical technology firm BGI Group said it has opened a lab in Wuhan, where the outbreak is centered, that can test 10,000 samples a day to diagnose the coronavirus there.
Reports from Wuhan portray a health-care system overrun by the virus, potentially leading to significant underdiagnosis of patients. The new 2,000-square-meter (21,528-square-foot) Huo-Yan, or "Fire Eye" laboratory, promises to greatly accelerate testing cases to eliminate or confirm suspected infections as soon as possible, the Shenzhen, China-based company said Thursday in a statement.
Wisconsin Confirms New Coronavirus Case (2:32 p.m. NY)
Wisconsin public health officials confirmed the 12th U.S. case of the coronavirus. The patient is an adult who had traveled to Beijing and was exposed to known cases while in China, said the state's Department of Health Services.
The person has been isolated at home and is doing well, the state said in a statement Wednesday.
CDC Begins Shipping Virus Test Kits (1:25 p.m. NY)
The U.S. Centers for Disease Control and Prevention started shipping new test kits that can detect the coronavirus on site to 200 laboratories in the U.S. and 200 others outside the country. Previously, samples had to be sent to the agency's headquarters in Atlanta.
Each kit can process 700 to 800 samples, allowing for more than a quarter-million people to get their results and potentially relieving the burden on overwhelmed health systems, said Nancy Messonnier, director of the CDC's National Center for Immunization and Respiratory Diseases. It will take a few days before widespread use can begin, she said.
"By the start of next week, we expect there to be much enhanced capacity for laboratory testing closer to our patients," Messonnier said on a briefing with reporters Wednesday.
Two U.S. Wuhan Flights Arriving, Two More Expected (12:50 p.m. NY)
Two evacuation flights from Wuhan to the U.S. are arriving today at military bases, with two more expected tomorrow, the U.S. Centers for Disease Control and Prevention told reporters on a call Wednesday.
The government has repatriating Americans from the outbreak's center in China, and putting people under mandatory quarantine for as long as two weeks when they return. CDC officials didn't say how many people were on the flights.
U.S. to Receive More Virus Evacuees From Wuhan (11:30 a.m. NY)
U.S. health authorities are preparing for several more plane-loads of evacuees from Wuhan, the city in Hubei province where the virus was first detected. They plan to quarantine them for as long as two weeks at military bases in three states.
The U.S. Centers for Disease Control and Prevention said in a statement Wednesday that it will screen the passengers during their travel and give quarantine orders when they arrive. The flights will land at air bases in California, Texas and Nebraska.
On Tuesday, the U.S. State Department said two more plans of evacuees were on their way. The U.S. government has put in place plans to temporarily isolate hundreds of at-risk people returning from the outbreak in China.
WHO Cautions on Quick Breakthrough (11:10 a.m. NY)
World Health Organization officials tamped down expectations of imminent breakthroughs in the development of vaccines or treatments for the outbreak.
"There are no proven, effective therapeutics" for the novel coronavirus, Mike Ryan, executive director of the WHO's Health Emergencies Program, said Wednesday at a press conference in Geneva.
The UN agency plans a systematic review of all therapeutics, Ryan said. The organization will share clinical trial protocols around the world, he said.
An antiviral drug from Gilead Sciences Inc. is expected to start testing in China on Thursday.
Gates Foundation Pledges $100 Million (9:15 a.m. NY)
The Bill & Melinda Gates Foundation said Wednesday it will commit as much as $100 million to bolster the international response to the novel coronavirus.
The funding will help strengthen detection, isolation and treatment efforts; protect at-risk populations; and develop vaccines, therapies and diagnostics. The new funding includes the $10 million the foundation committed to the outbreak in late January.
"Multilateral organizations, national governments, the private sector and philanthropies must work together to slow the pace of the outbreak, help countries protect their most vulnerable citizens and accelerate the development of the tools to bring this epidemic under control," Gates Foundation Chief Executive Officer Mark Suzman said in a statement.
The funds will assist the World Health Organization, Chinese frontline responders and others at the global and national levels, the foundation said.
Capri Cuts Forecast, Shuts Stores in China (7:40 a.m. NY)
The company, which owns the Jimmy Choo and Michael Kors brands, cut its revenue forecast for the fiscal full year, citing the material impact of the coronavirus outbreak in China on its business.
China Offers Firms Fighting Virus Lower Rates (6:58 a.m. NY)
China will eliminate fees, reduce value-added taxes and support banks to offer loan rates under 1.6% to key enterprises involved in the fight against the coronavirus, according to China Central Television.
Vietnam Sees Lower GDP Growth Rate (6:47 a.m. NY)
Vietnam's government expects the spread of coronavirus to slow gross domestic product growth to as low as 6.09% in 2020, even if the epidemic is under control by the second quarter. Growth may be at 6.27% if the virus is controlled within the first quarter, Mai Tien Dung, chairman of the government office, said at a briefing in Hanoi.
Babies Born With Coronavirus After Mothers Infected (6:42 p.m. HK)
Two newborn babies tested positive for coronavirus in Wuhan after their mothers were infected, China Central Television reported.
Markets Gain on Chinese Report of Research Progress (5:50 p.m. HK)
Stocks surged, industrial metals advanced and oil gained after Chinese television reported possible progress in the hunt for a coronavirus treatment. The report said a drug being tested by researchers at Zhejiang University in China was effective against the virus. The treatment was tested on cells outside the human body, meaning it would be a long way from any clinical trials on people, let alone approval as a marketable drug.
Separately, China kick-started a clinical trial to test Gilead Sciences Inc.'s Remdesivir, an antiviral developed for Ebola and SARS. China's health regulator also recommended AbbVie Inc.'s Kaletra, already approved as an HIV medicine, as an ad-hoc antiviral drug for the coronavirus.
Foxconn Cuts Outlook, Quarantines IPhone Base (5:43 p.m. HK)
Hon Hai, known also as Foxconn, makes the vast majority of the world's iPhones from Zhengzhou, central China. The contagion will likely disrupt Apple's carefully calibrated production chain.
Hong Kong Will Quarantine China Arrivals (4:50 p.m. HK)
The city will quarantine people arriving from mainland China, including Hong Kong residents and visitors entering via its international airport, Chief Executive Carrie Lam said.
The policy will go into effect on Feb. 8 at midnight. Lam also said Hong Kong will close the Kai Tak Cruise Terminal in its Victoria Harbor, and announced a HK$10 billion ($1.3 billion) fund for those affected.
Cathay Pacific Asks Staff to Take Unpaid Leave (3:45 p.m. HK)
The airline asked staff to take unpaid leave from March 1 to June 30 as it tries to preserve cash. Cathay has said demand dropped following the outbreak and announced deep cuts to flight capacity on Tuesday. South Korean budget carrier Tway Air also asked staff to take unpaid leave.
Separately, Airbus SE shut its plant in Tianjin that builds about six A320-series jets a month, corresponding to almost 10% of the company's global single-aisle output.
Virus Cases Linked to Singapore Spur Multinational Inquiry (2:41 p.m. HK)
Coronavirus cases in South Korea and Malaysia tied to a business meeting in Singapore attended by visitors from China have prompted an investigation into the infection's international spread.
A 41-year-old man in Malaysia and a 38-year-old man in South Korea were infected with the virus after attending a meeting at a Singapore hotel in the third week of January, health authorities said. The World Health Organization is coordinating with Singapore's Ministry of Health in relation to the event, said Olivia Lawe Davies, the agency's Manila-based regional communications manager.
Hong Kong Cruise Passengers Under Quarantine (1:53 p.m. HK)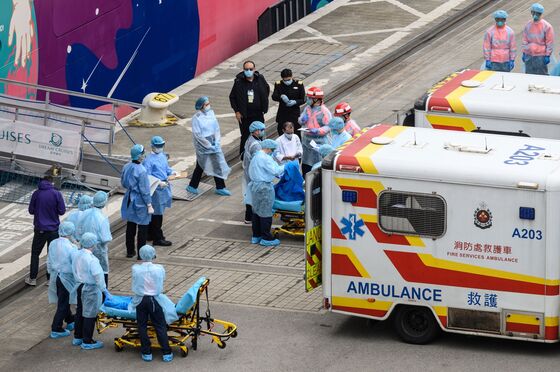 Hong Kong authorities are keeping 3,600 passengers and crew members under quarantine on the cruise ship World Dream after three previous travelers were diagnosed with the novel coronavirus.
The three confirmed virus patients had disembarked in China on Jan. 24, according to Chief Port Health Officer Leung Yiu-hong at a briefing at the cruise terminal. The cruise ship, owned by Genting HK's Dream Cruises, docked in Hong Kong on Wednesday morning.
Health officials are collecting samples from about 30 crew members who reported symptoms including cough and fever for coronavirus tests. Three crew members who earlier reported fever will be sent to the hospital for isolation. The development follows a separate case in Japan in which 10 people on Carnival Corp.'s Diamond Princess cruise ship tested positive for the coronavirus.
China Seeks Patent for Gilead's Experimental Drug (1:01 p.m. HK)
China has applied for a new patent on an experimental Gilead Sciences Inc. drug that its scientists believe might fight the coronavirus.
It has applied for a patent for the use of the drug, know as remdesivir, to treat the novel coronavirus. The move is a sign that China views Gilead's therapy as one of the most promising candidates to fight the outbreak. A patent battle may affect Gilead's control over the drug in China.
While Gilead's experimental drug isn't licensed or approved anywhere in the world, it is being rushed into human trials in China on coronavirus patients after showing early signs of being highly effective.
Trump Cites Efforts on Virus in State of the Union (11:10 a.m. HK)
President Donald Trump said in his State of the Union address that the U.S. is working with China to contain the coronavirus outbreak.
"We are coordinating with the Chinese government and working closely together on the coronavirus outbreak in China," Trump said. "My administration will take all necessary steps to safeguard our citizens from this threat."
Credit Suisse Scraps Hong Kong Conference (11:05 a.m. HK)
Credit Suisse Group AG scrapped its annual Asia investment conference next month, adding to a string of cancellations or delay for similar gatherings in Hong Kong and China.
The decision marks the biggest cancellation in Hong Kong's financial industry after the outbreak of the virus. The city on Tuesday reported its first confirmed death from the virus. Neighboring Macau, the world's biggest gambling hub, has asked its casinos to shut down for half a month.
Disney Sees Virus Hurting Profits (8:24 a.m. HK)
Walt Disney Co. is feeling the impact of the virus after temporarily closing its Shanghai and Hong Kong parks due to the outbreak.
On a call to discuss the company's earnings, Chief Financial Officer Christine McCarthy said Disney expects the Shanghai park closure alone to crimp profits in the current quarter by $135 million, assuming it is shuttered for two months. With Hong Kong closing, Disney expects the coronavirus to reduce profit there by another $40 million.
China Cases Rise Above 24,000 (8:00 a.m. HK)
The number of total confirmed cases of coronavirus in mainland China rose to 24,324 as of Feb. 4, according to the National Health Commission. The death toll is at 490, it said in a statement.
Most of the fatalities -- 479 -- have occurred in the province of Hubei, the Chinese province at the center of the outbreak. Hubei reported 3,156 new confirmed cases, bringing the total in Hubei to 16,678.
Outside the mainland, Hong Kong reported a death on Tuesday. A man from Wuhan died in the Philippines on Feb. 1.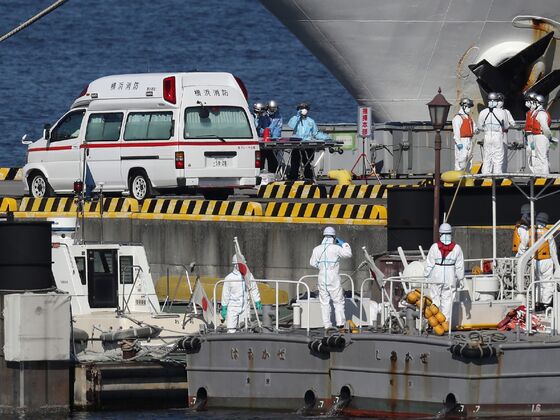 Ten Passengers on Japan Cruise Have Virus (7:33 a.m. HK)
Ten people on a Carnival Corp. cruise ship moored near Yokohama with about 3,700 crew and passengers aboard have tested positive for the new coronavirus and taken to hospital, Japan's Health Ministry announced Wednesday.
The Diamond Princess was placed under quarantine this week before it reached Japan and checks were conducted after a passenger from Hong Kong who had been on the ship tested positive for the virus. Of 31 people whose test results have come through, 10 were confirmed as infected, the ministry said.
The new infections come in addition to 23 people already confirmed to have contracted the disease in Japan.
FDA Grants Emergency Use of Rapid Test for Virus (6:34 a.m. HK)
The U.S. Food and Drug Administration cleared the way for the widespread use of a new test to detect the novel coronavirus at laboratories across the country, removing the need for doctors to send samples out for analysis.
The test was designed by the Centers for Disease Control and Prevention and can be used at any of the agency's approved labs across the country. Until now, samples taken from patients had to be sent for analysis at the agency's laboratories in Atlanta.