China Vows to Open Its Markets Ahead of Trump-Xi Talks at G-20
(Bloomberg) -- China pledged to push ahead with opening up its economy and criticized trade wars as counterproductive, setting the tone for talks with U.S. President Donald Trump at the Group of 20 summit this week.
Addressing a conference in the global port city of Hamburg, Chinese Vice Premier Liu He contrasted the "enormous" interest in free trade shared by China and Europe with the stance taken by Trump, who said he'll probably move forward with plans to increase tariffs on $200 billion of Chinese goods.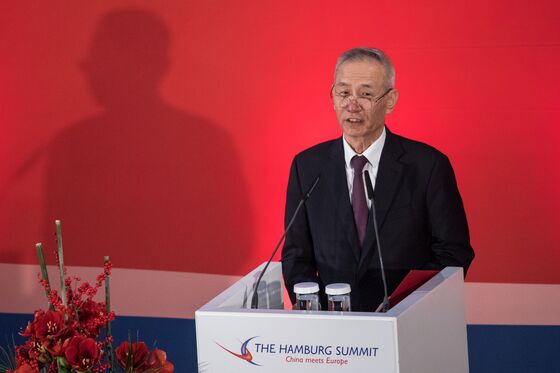 Protectionism and unilateral measures "only bring about more economic uncertainties," Liu said Tuesday at a conference sponsored by Hamburg's chamber of commerce. History shows that "raising tariffs only leads to recession and no one ever emerges as a winner from trade wars, " he said.
Trump and Chinese President Xi Jinping plan to meet at the G-20 in Buenos Aires after a year of trade conflict. Trump, in an interview with the Wall Street Journal published Monday, said he's prepared to impose tariffs on a final batch of $267 billion of Chinese shipments if he and Xi can't make a deal.
Liu said China will carry out further steps to improve access for foreign companies "as fast and as early as possible," citing Xi's pledges to speed up the opening of telecommunications, education and medical care. China also will accelerate reform of its state-run enterprises, Liu said.