China Urges More Pork Output, Lambastes Swine Fever Cover-Up
(Bloomberg) -- The Chinese government stepped up pressure on local authorities to get to grips with swine fever while urging greater pork production even as the virus spreads.
In a speech on Friday, Vice Premier Hu Chunhua lambasted regional officials for misleading the government on the scale of the epidemic, calling the situation "much grimmer than we have been informed." He later told local governments to take immediate steps to stabilize and improve pork supplies.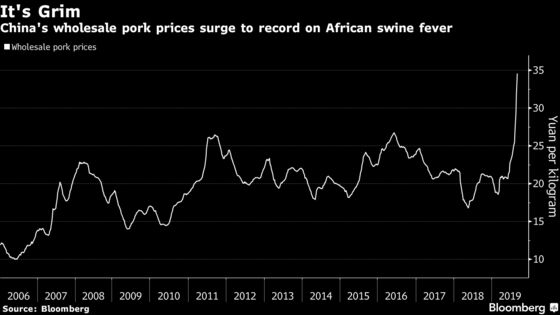 Hu's orders suggest a growing sense of urgency among the central government to both contain the spread of the disease and also curb pork prices that have surged to record levels amid shortages. One region has even started rationing purchases while setting a cap on prices at selected wet markets.
"If pork prices continue to rise too fast, it will seriously affect the lives of urban and rural residents, especially low-income people, and affect the joyful atmosphere when celebrating the 70th anniversary of the founding of New China," said Hu. The festivities are set to start in the first week of October.
On Wednesday, the finance and agriculture ministries jointly published a notice promising to offer more subsidies from the central government's budget to help recover pig breeding while ensuring supplies and economic stability.
The supply situation will be "extremely severe" through to the first half of 2020, Hu said. The country is likely to have a pork shortage of 10 million tons this year, more than the roughly 8 million tons in annual global trade, meaning China will need to fill the gap by itself, he said.
Hu's estimate on the shortages, equivalent to more than 120 million hogs, is the lowest seen by the industry, said Jim Huang, head of industry consulting firm www.china-data.com.cn. The actual figures are likely three times higher, he said.
As for the cover up, Hu said "an investigation in secret by relevant departments also found large numbers of dead pigs, which were neither tested nor reported."
Huang said it's likely local governments failed to report the outbreaks in part because they could not afford to pay the subsidies to compensate for the culling of sick pigs. Also, reporting an outbreak could lead to a ban in sales of local pigs by some provinces which would cause panic selling by farmers, another reason that deterred local governments from reporting, he said.