China Traders Put Faith in Beijing's Pledge to Save Markets
(Bloomberg) -- Yin Ming took his dog for a walk not long after news of the worst U.S. sell-off since 1987 flashed on his screens Friday morning. He was long Chinese stocks, and the market had been outperforming.
"It was life as usual for me," said Yin, vice president of investment firm Baptized Capital, who woke up at 4 a.m. in Shanghai to check the overnight market moves. "If the yuan and domestic equities can persist with their resilience, China will likely replace the U.S. as a haven for global assets."
That confidence could prove unfounded with the economy and corporate profits under an enormous amount of pressure. China's central bank had already flooded the market with liquidity, encouraging leverage and boosting stock prices. Now, expectations of more stimulus -- and a dose of nationalism -- are helping limit equity losses. It means that while the Shanghai Composite Index fell 4.9% this week, it still fared better than most major indexes.
In a widely-expected move, the People's Bank of China said Friday it will trim the amount of cash that lenders must hold in reserve from March 16, freeing up about 550 billion yuan ($79 billion) of liquidity into the financial system. FTSE China A50 Index futures rose 0.3% after the announcement. The central bank's last cut was announced at the beginning of the year and helped send stocks to an almost two-year high.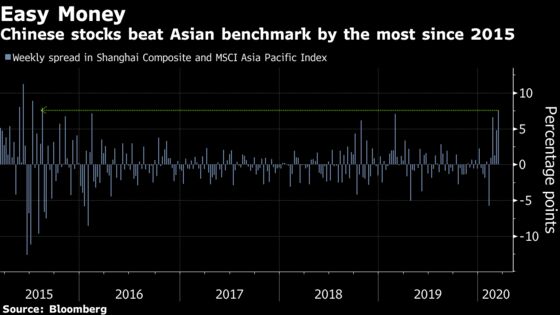 Still, the risk remains that further action by the central bank falls short of expectations, undermining the bull argument and triggering losses. As the experience in global markets has shown, central banks have been powerless to calm panic selling once it starts.
Pan Jiang, chief executive officer of Shanghai V-Invest Co., isn't too concerned, citing the outsized impact of fiscal and monetary policy on domestic equities.
"China's economy and capital markets are more policy-driven and thus any stimulus will be more effective," Pan said. "China will continue to stand out in terms of resilience in its economy and capital markets."
China acted quickly to support its financial markets since the virus outbreak shut most of its economy, in many ways before things got really volatile (unlike in the U.S., where the Federal Reserve cut rates after the S&P 500 Index tanked 11% in one week). Policies deployed before Chinese markets reopened in early February following a holiday ensured that while the first day of trading was brutal, it took just 10 sessions for stocks to recover.
But with the economic outlook growing darker by the day in the U.S. and Europe and governments pumping in billions in stimulus, China's drip-feed approach to stimulus is beginning to look behind the curve. In China, the median forecast for year-on-year growth in the first quarter is now just 4.0%, the weakest in 30 years.
Earlier Friday, China has said it will improve the competitiveness of its products and services to help boost consumption, though the measures were largely targeted at specific areas of the economy.
For now, it seems China's policy makers may be taking a page of Mario Draghi's book, whose "whatever it takes" speech in 2012 helped save the euro at the height of the bloc's sovereign debt crisis. That was years before the European Central Bank president embarked on quantitative easing and took the main refinancing rate to zero.
"Chinese authorities are quite clear-minded and they will do whatever it takes to support its economy and markets," said Shanghai V-Invest Co.'s Pan.