China Presses on With Crackdown on Tech Data and Overseas IPOs
(Bloomberg) -- Beijing pressed ahead with moves to assert greater control over technology companies, continuing a campaign that's roiled financial markets and prompted Washington to suspend public offerings by Chinese companies on U.S. exchanges until risks are better disclosed.
In a flurry of action Friday, authorities summoned the country's largest technology companies for a warning on data security, vowed tighter oversight of overseas share listings and accused ride-hailing companies of anti-competitive behavior.
A meeting of the Chinese Communist Party's elite Politburo chaired by President Xi Jinping offered investors little reassurance that overhauls tightening the state's grip on industries from private education to technology and property will slow in the second half. The Politburo pledged "improvement" in the system for approving overseas listings by companies, Xinhua reported, without giving details.
That means authorities want to institutionalize such policies and restore the confidence of foreign investors, said Lu Ting, chief China economist at Nomura Holdings Inc.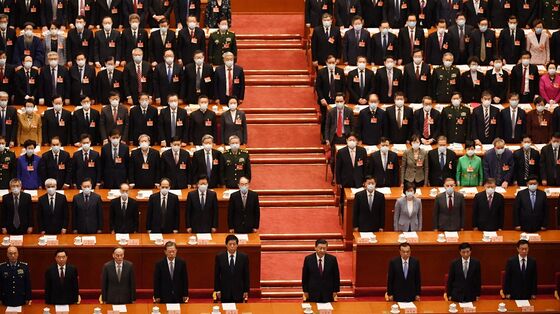 The Politburo's vow comes after ride-hailing company Didi Global Inc.'s software was removed from app stores in China after it listed in the U.S. and China's internet regulator announced that tech companies with more than a million users would need to pass a security review before listing overseas.
The Ministry of Industry Information Technology on Friday told 25 of China's largest internet and hardware companies, including Alibaba Group Holding Ltd. and Tencent Holdings Ltd., to carry out internal reviews and rectify issues ranging from data security to consumer-rights protections. In a separate statement, China's transport ministry said authorities will step up oversight of ride-hailing and on-demand trucking companies, adding that some firms in the industry are operating irregularly and disrupting fair competition.
Read more: Didi sinks as China vows to root out ride-hailing "illegalities"
What Bloomberg Economics Says...

One thing is strikingly clear in the wide-ranging discussions of the Politburo meeting on Friday -- the 'set our own agenda' philosophy is becoming a core principle in China's policy making. This is most prominently reflected in its first formal stated aim of 'enhancing independence of macroeconomic policy' and its intention to improve oversight of listings of Chinese companies in other countries.

Chang Shu, chief Asia economist

For the full report, click here.
The U.S. Securities and Exchange Commission has halted initial public offerings of Chinese companies until they provide more disclosures about investment risks. SEC Chair Gary Gensler said the Chinese government's crackdown on foreign listings and enhanced cybersecurity reviews are "relevant to U.S. investors."
The July meeting of the 25-member Politburo normally focuses on economics but was overshadowed by the regulatory moves this month following the Communist Party's official 100th anniversary.
The summary of the meeting suggests the "recent regulatory focus impacting the market such as anti-monopoly and data security rules in the internet sector could be here to stay," economists at Goldman Sachs Group Inc. said in a note.
Chen Long, an economist at Beijing-based consulting firm Plenum, said the pace will probably slow in coming months, "but I wouldn't call that a dialing back." "Because some of the policies were delayed for the anniversary celebrations, the frequency of policy announcements in July was a bit too hectic," he said. "I don't think this is a normal pace."
Read More:
China Bonds Power Ahead as Traders Beef Up Bets on Policy Easing
The tone of the Politburo meeting suggested fiscal and monetary support would remain broadly stable in the second half, analysts said. Economic growth stabilized in the second quarter of 2020 and growth is likely to slow for the rest of the year as favorable base effects fade and export demand eases.
The Politburo pledged more effective fiscal support for the economy and said monetary policy would provide sufficient liquidity.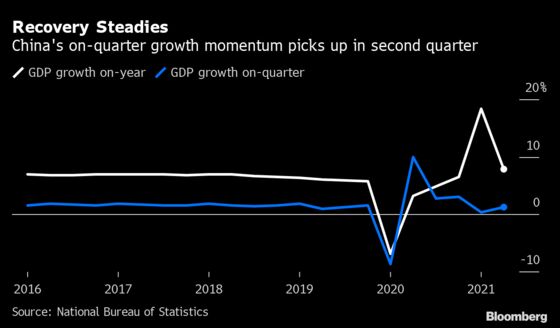 The Politburo described the external environment as "becoming even more complicated and grim" as the global pandemic continues to develop, according to Xinhua. That suggests a more cautious outlook for growth, said Nomura's Lu, who added that the language around controlling real-estate prices suggests Beijing will retain property restrictions.
The focus on fiscal policy suggests Beijing wants local governments to step up the pace of infrastructure spending in the second half, said Ding Shuang, chief economist for Greater China and North Asia at Standard Chartered Plc in Hong Kong.
"Because fiscal spending was slow in the first half of the year, so its acceleration in the second half will help control the economy's downward pressure," he said.
China's Finance Minister Liu Kun pledged at a briefing Friday that fiscal policy in the second half "won't take a U-turn, and will keep up with the strength necessary" to boost consumption and investment.
The Politburo's call for more "autonomy" in macro policies signals that policy makers want to tailor policies based on the domestic economy, instead of following the Federal Reserve's policy pace, Ding added. The meeting for the first time vowed to strengthen "cross-cyclical adjustment," a phrase that has been interpreted to mean authorities will take a longer time frame when considering policy support and will avoid overstimulating the economy.
The Politburo said it will coordinate policies this year and next year to make sure the economy operates in a reasonable range. It also vowed to stabilize commodity prices after a surge in producer prices in the first half.