Dovish China Tilt Divides Market on Rate Cut, Slowdown Fears
China's surprising dovish about-turn last week is dividing the market over the severity of the nation's economic slowdown and how far its central bank will go in loosening policy.
Some such as UBS Asset Management and Citic Securities see interest-rate cuts in coming months as growth falters. Others like Nomura Holdings Inc. and NatWest Group Plc say Friday's move doesn't prelude any more aggressive easing, and authorities are likely to take more targeted measures, such as managing liquidity through the medium-term lending facility.
China's gross domestic product data on Thursday, along with retail sales and industrial production numbers, may provide an answer to why policy makers suddenly loosened liquidity after months of warning about excessive leverage. One thing almost all analysts agree on is that the People's Bank of China is ready to deploy more tools from its arsenal as the recovery from the pandemic faces a risk of stagnating.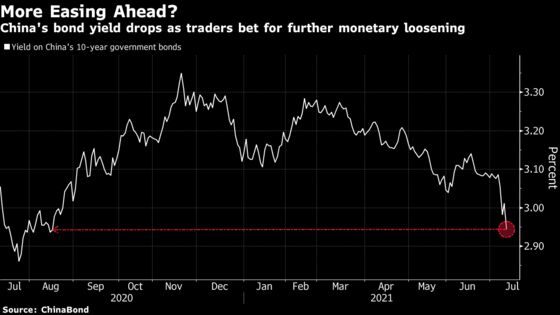 The PBOC surprised global financial markets Friday, saying it would trim the reserve requirement ratio by 0.5 percentage point for most banks to free up long-term liquidity. The unexpected flip to an easing stance spooked many investors by fueling concern China's rebound from the coronavirus pandemic may be faltering.
UBS is among the most hawkish, saying the central bank is now likely to lower its benchmark lending rate by year-end to support small and medium-sized companies.
"The PBOC has transitioned from a neutral stance to start an easing cycle, and this cycle has further to go," said Hayden Briscoe, head of fixed income for Asia Pacific at UBS Asset, without specifying the amount of the reduction. "We will see more easing measures later this year, and in late 2022, we will see the real economy pick up."
The rate cut should help push down the nation's 10-year bond yields by as much as 100 basis points to a record low, he said.
Citic Securities also sees more easing. The loan prime rate, which is the base rate for new bank loans, will likely be lowered by lenders as Beijing seeks to reduce funding costs in the real economy, Ming Ming, head of fixed-income research at the firm in Beijing, wrote in a research note Tuesday.
Last week's reserve-ratio cut will send the overall borrowing costs lower for lenders, allowing them to charge less for loans to corporates, he said.
"China's goal of reducing financing costs for small- and medium-sized enterprises will be fulfilled smoothly, if the LPR is lowered as we expected and the costs on bank loans drop," Ming said. "Then, the need for Beijing to loosen monetary policy further this year will decline."
Economists at other firms, including Nomura's Lu Ting and NatWest's Liu Peiqian, say the PBOC is likely to use more targeted measures -- rather than another broad reduction in reserve requirement ratio -- to support growth for the rest of this year. Chang Jian, an economist at Barclays Asia Pacific, says Beijing will reduce the ratio by another 50 basis points in the fourth quarter as growth slows more significantly.
Before last week the PBOC had defied the trend among global central banks to send interest rates to ultra low levels to counter the pandemic, with officials stressing for months how excessive liquidity risked fueling asset bubbles. The authorities had done the minimum to add cash into the banking system, even as increasing issuance of local government bonds boosted demand for funds.
What's changed the minds of policy makers may be a string of data suggesting the recovery is losing steam. Rising commodity costs pushed factory-gate prices to the highest level in almost 13 years in May, while a gauge of activity in the services industry slumped in June.
Read more: Credit Markets in Asia Get Boost From PBOC's Pivot Toward Easing
The PBOC in a press briefing Tuesday said that the reserve-ratio cut was only a step to enhance liquidity and the monetary policy will remain prudent.
China's benchmark interest rate may be becoming less important to the PBOC as time goes on. In recent years, the central bank has adopted a more flexible policy rate -- the cost of cash injected with its medium-term lending facility -- to adjust borrowing costs. It lowered that gauge twice last year to help steer the economy out of the pandemic.