Recession Fears, China Tariffs Keeping Trade Shows on Edge
(Bloomberg) -- The International Builders' Show in February will display its usual Las Vegas flair - a keynote by comedian Dana Carvey, concert by the Goo Goo Dolls and a "Show Village" with a 1,600 square foot house that unfolds out of a box.
Beyond the razzle-dazzle, though, is growing apprehension throughout the exhibition industry about Chinese tariffs, threats from e-commerce and potential recession. The trade show industry is especially susceptible to economic downturns, having plummeted almost 10 percent one year during the last recession, and show producers are hoping to stave off a repeat.
Overall, U.S. trade shows should grow by 1.5 percent next year, down slightly from the industry's growth of 1.5 percent to 1.8 percent this year, according to an index from the Center for Exhibition Industry Research. Originally, the group expected a stronger 2.5 percent gain this year based on a roaring U.S. economy.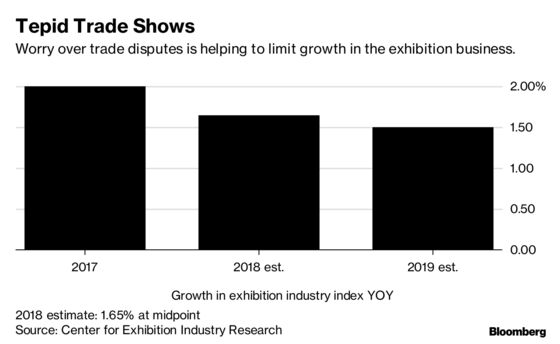 Recently, the producer of a major U.S. bicycle industry convention canceled its 2019 event partly because of tariffs on Chinese imports, and a large Boston seafood show is seeing some pullback by Chinese vendors on protectionism concerns. Turnout and exhibitor sales for the IBS event in February overall should be strong, even if sales have dropped off a bit since October on the softening in U.S. housing, said Geoff Cassidy of the National Association of Home Builders.
An economic slowdown "has the potential to impact our space sales and our registration in 2020, but people still need to network and see the latest," Cassidy said.
To be sure, trade shows by food-related companies and the construction and heavy machinery industries have been bustling. Similarly, the promotional products industry, purveyors of trade show pens and mini footballs, expects to end 2018 up 5 percent and see as much as a 4 percent growth next year, said Bob McLean of the Promotional Products Association International.
However, looming threats had the mood at CEIR's annual outlook conference in September only "cautiously optimistic," said Nancy Drapeau, the exhibition group's senior research director.
The U.S. seafood industry works on small margins, so restaurants and vendors are feeling the current 10 percent tariff on imported Chinese seafood, said Mary Larkin, whose company, Diversified Communications, produces Seafood Expo North America in Boston among other shows.
Chinese vendors "just book a little bit less space than they have in the past," said Larkin, adding that other exhibitors have made up the slack. "Maybe they booked 20 booths for a pavilion in the past, and they're maybe booking 16 this year. "
The producer of the Interbike show in Reno, Nevada has been hit harder. Emerald Expositions Events Inc. canceled its 2019 convention earlier this month, citing several years of difficulty in the U.S. bicycle market and an increase in tariffs on bike-related imports. While consumer technology companies are concerned about tariffs, the Consumer Technology Association is expecting attendance and exhibitors at its giant CES electronics show in Las Vegas next month to equal or exceed last year's totals, CTA Chief Executive Officer Gary Shapiro said.
Still, exhibitors are following closely economic news and reports on China tariffs. CEIR's exhibition index dropped 9.9 percent in 2009, reflecting a drop in attendance and revenue from the deepest recession since the 1930s.
"Recession has a huge impact on the exhibition industry," said Allen Shaw, an economist with CEIR. "Companies see exhibition costs as easier to cut than some other expenses."