China Subsidies Are Haunting a U.S. Steel Industry That's Losing Jobs
(Bloomberg) -- If the latest monthly manufacturing data suggests anything, it's that President Donald Trump's tariffs haven't yet solved a key issue haunting U.S. steelmakers: China's subsidizing of its own industry.
Manufacturing jobs in December unexpectedly fell by 12,000 with a key part of the drop coming in businesses that make raw and fabricated metals. The metal-making industries accounted for a loss of 9,500 jobs, and U.S. industry groups say that without an agreement on the Chinese subsidies, more losses could be ahead.
Trump is about to sign a Phase 1 trade pact that is not expected to address the issue of Chinese steel production and other aspects related to industrial policy. He has said that once that's complete Phase 2 talks can begin. China's subsidies are giving its metals industry an unfair edge and need to be part of any future pact, according to Scott Paul, president of the Alliance for American Manufacturing.
"American workers are now counting on the administration to bring home a real agreement with China that includes action to address China's massive industrial subsidies," Paul said in a statement. "Without that change, this decade looks to be a tough one for America's factory workers."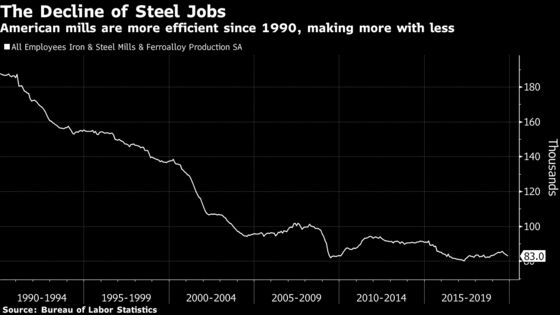 Peter Navarro, the White House adviser on trade, says the Trump administration is "well aware of the problem. We're fully engaged, and it's something that needs to be firmly addressed."
"The tariffs are working beautifully," he said by telephone. "If not for the tariffs these companies would be in very significant distress rather than investing billions modernizing facilities. But we would much prefer that these other countries that are heavily subsidizing their steel and aluminum production cease and desist from doing so."
The U.S. and other World Trade Organization members have long criticized China's domestic steel subsidies, which they said have led to massive overcapacity in global markets. The Obama administration, days before leaving office, filed a complaint with the WTO against the subsidies, leaving a blueprint for the Trump administration to fight them.
Also see: Best of U.S. labor market may be over
Instead, Trump slapped 25% duties on all steel imports and 10% levies on foreign aluminum, with no regard for where it originated. While they boosted short-term profits for U.S. steelmakers and aluminum producers, the effects have worn off.
Since Trump announced the tariffs, U.S. Steel Corp. has lost 77% of its value, Alcoa Corp. is down about 57% and Nucor Corp., the biggest U.S. steelmaker, is down about 22%. American steel production grew about 10% from 2015 to 2018. But the number of jobs has fallen by 8.8%, according to the Bureau of Labor Statistics, as the industry became more efficient with so-called mini mills that use mostly scrap metal to make steel.
Meanwhile, in late December U.S. Steel announced it would begin to idle a giant plant outside Detroit in April, when it will begin laying off as many as 1,545 workers. The company said it anticipated that the final number of impacted employees will be lower than the announced number.
China's steel industry association pushed to halt some steel production in regions that have extensive capacity while facing pollution pressures, China's official Xinhua news agency reported Monday, without giving more details.