China Stocks in Danger on Inadequate Stimulus, BofAML's Cui Says
(Bloomberg) -- China's stock market is likely to resume its recent sell-off in 2019, with existing government efforts to boost the economy set to fall short, forcing a fresh dose of measures to accelerate growth as the stock market tumbles, according to Bank of America Merrill Lynch.
If growth data continue to disappoint, the Hang Seng China Enterprises Index could fall to 7,600, a decline of 30 percent from closing levels on Friday, and the Shanghai Composite by about 20 percent to a bottom of 2,100, said David Cui, BofAML's head of China equity strategy. Only after investors are convinced that more effective stimulus is in place will the market be able to recover substantially, he added.
"The current stimulus isn't strong enough to erase the slowdown in growth," he said in a roundtable interview in Hong Kong on Friday. "The bottom for growth probably will be a year later than most people currently anticipate."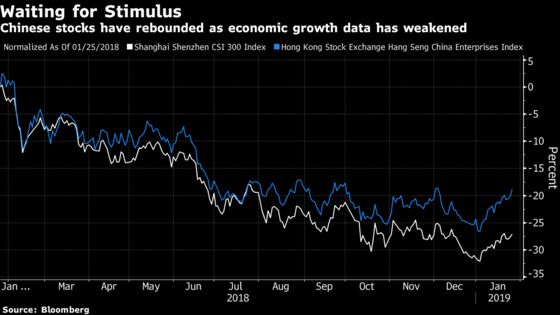 After entering a bear market last year, Chinese stocks bottomed in early January as investors looked past slowing data from the real economy and the People's Bank of China eased reserve requirements for some lenders. It has also set up a new facility allowing banks to recapitalize their balance sheets through sales of perpetual bonds.
Cui's team has made numerous bearish calls on the Chinese economy in the past, most notably warning of a "Bear Stearns moment" for the financial system after corporate defaults started in 2014.
But China still hasn't solved its leverage problems, and if anything, they've gotten worse as a result of share pledging, Cui said. Investors in the Chinese market are too optimistic and another round of selling should follow before reasonable valuations are reached, Cui added. He set a year-end target of 9,400 on the HSCEI, and 2,400 for the Shanghai Composite.
A window for Beijing to conduct additional "significant stimulus" may open after the National People's Congress in March, Cui said. "If growth really slows down sharply, the government will have no choice but to do another round."
The Chinese government will likely increase infrastructure spending and loosen controls on housing and shadow banking, he said, adding that policymakers' task will become a lot more difficult if the Chinese yuan is under assault from financial markets at the time.
The trade war is likely to get resolve,d but the conflict will continue to simmer, Cui said. "The battleground will shift to technology, and what happened to Huawei and ZTE, I think, will be a recurrent event."