China Stocks Rise Most in Two Months as Officials Pledge Support
(Bloomberg) -- Chinese stocks jumped the most in more than two months after top financial officials voiced support for the battered equity market.
The Shanghai Composite Index rose 2.6 percent to 2,550.47, its biggest gain since Aug. 7. The gauge earlier fell as much as 1.5 percent, breaking below the key 2,500 level. The Shenzhen Composite Index also gained 2.6 percent, while the ChiNext Index of smaller companies rallied the most since June. While the afternoon's accelerated gains raised the question of whether authorities were taking a more direct approach, the gauges still posted a weekly drop.
"The latest official remarks strengthen expectations that authorities will put a floor under stocks through policy easing, especially on deleveraging," said Zhu Bin, Shanghai-based strategist with Southwest Securities Co. "That's driving a technical rebound in stocks where investment value starts to emerge as valuations get cheaper and the index breaks through 2,500 points intraday, though it's going to take some time for the market to really bottom out."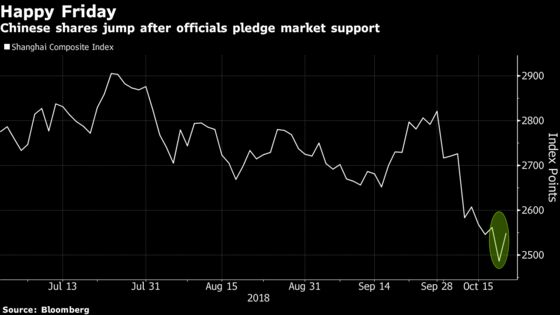 The Chinese government values a healthy stock market, and financial regulators have recently announced new reform measures, Vice Premier Liu He said in an interview with the Xinhua News Agency. Separately, Guo Shuqing, the chairman of the China Banking and Insurance Regulatory Commission, said recent fluctuations in markets don't reflect fundamentals, while People's Bank of China Governor Yi Gang said the central bank was studying measures to ease companies' financial difficulties.
The head of the nation's securities regulator, Liu Shiyu, said his agency encouraged local government-backed funds to help ease pressures created by share-pledge risks.
Concerns over pledged shares began to brew this week as some firms warned of forced selling of stocks as major investors failed to meet additional collateral demands. With more than $600 billion of the country's shares pledged as collateral for loans, or about 11 percent of the country's market capitalization, investors are concerned that falling stock prices will trigger a downward spiral of forced liquidation.
More than $3 trillion has been wiped out since January, all of France's stock market capitalization and then some, as Chinese shares tumble the most in the world. Private companies are struggling with liquidity concerns, the economic outlook is slowing as a trade war with the U.S. deepens, and a weakening yuan is starting to prompt capital outflows.
Data released Friday showed China's economic growth slowed more than expected in the third quarter, as weak industrial output data and the "severe international situation" challenged the government's efforts to stabilize the economy and reach its growth targets. One bright spot was retail sales, which grew 9.2 percent in September, beating economists' expectations.
"Expectations of liquidity injection into the market will grow after the regulators' comments," said Ken Chen, Shanghai-based analyst with KGI Securities Co. "But even if stocks rebound in the near term, bigger declines could follow as long as the key issue -- pessimism on economic fundamentals -- remains."
In Hong Kong, the benchmark Hang Seng Index was 0.4 percent higher, with Chinese developers among the best performers, while the Hang Seng China Enterprises Index climbed 0.8 percent. China Huarong Asset Management Co. and some related stocks declined as they were named in a report by activist investor David Webb as companies not to own.
SHCOMP, SZCOMP drop at least 2.2% for the week
ChiNext +3.7% on Friday, biggest gain since June 29
Financials, consumer staples lead gains on CSI 300 Index, which climbs 3% with volume 34% higher than its 30-day average
Foreign investors purchased 4.3b yuan of onshore stocks through trading links with Hong Kong, the most since Sept. 20
China Huarong Asset -0.7% in Hong Kong; China Goldjoy -5.7%, Chong Sing -9.2%, CMBC Capital -4.2%, among cos. named in Webb's warning
China Resources Land +2.6%, Country Garden +2.9%, among best performers on Hang Seng Index
New China Life Insurance +3.6%, China Pacific Insurance +2.5%, among biggest gainers on Hang Seng China gauge