China Stocks Are About to Get Cheaper, Analysts Say
(Bloomberg) -- Chinese stocks haven't been this cheap relative to bonds in more than two years, and analysts say they're about to get cheaper.
The equity selloff in the world's second-largest economy has left the Shanghai Composite Index's earnings yield -- the inverse of the more commonly used price-earnings ratio -- at 7.6 percent on Monday, widening the gap with the yield available on five-year AAA rated corporate notes by the most since March 2016. Analysts aren't rushing to call a reversal anytime soon, as investors continue snapping up bonds as China shifts toward easing, while stocks are shunned amid dwindling risk appetite and concern over an economic slowdown.
"There's a lack of positive factors for stocks in general, so the trend is likely to continue," said Xiong Yun, founding partner at Lingwang (Shenzhen) Investment Management Co. "Among bonds, corporate debt is likely to outperform sovereign and quasi-sovereign notes, as the latter have already rallied quite a lot this year."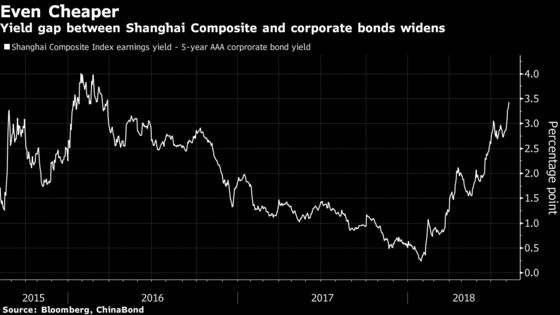 The Shanghai Composite Index has slid 18 percent this year through Monday, becoming the worst performer in the world. Bonds meanwhile extended a two-quarter advance, with corporate debt catching up with sovereign over the past month on a slew of stimulus measures. The spread between Shanghai Composite's earnings yield and corporate notes touched 3.43 percentage points. The equity measure pared some of this year's loss after rebounding 2.7 percent on Tuesday.
The shift from stocks to bonds is doing the People's Bank of China a favor, as it is weighing down bond yields without the central bank needing to cut policy rates. With deleveraging measures and higher U.S. tariffs on Chinese goods posing challenges to the economy, asset managers predict a further shift into bonds.
The latest stimulus package aimed at boosting demand for corporate bonds and ensuring reasonable financing of local government financing vehicles is also accelerating that move. Sovereign bonds have returned 5.4 percent this year, while corporate debt returned 4.2 percent, according to ICE BofAML indexes.
Even relative to its own history, the Shanghai Composite Index looks cheap. The measure traded at 13 times reported earnings on Monday, the lowest in three-and-a-half years, according to data compiled by Bloomberg.
"Calling a market bottom based solely on the widely used valuation multiples tends to be hasty," said Hao Hong, chief strategist at Bocom International Holdings Co. in Hong Kong. "Buy-side still has a high level of stock holdings and little cash to deploy for bottom-fishing."
For markets to turn around, trade tensions with the U.S. have to cool down and more clarity is needed on domestic policy, JPMorgan Asset Management wrote in a note last week. Listed companies tend to be more susceptible to tariffs than the overall Chinese economy as they're more globally exposed, according to the note.
A Politburo meeting on July 31 signaled top policy makers will focus more on supporting growth, while continuing deleveraging efforts at measured pace. Data released the same day showed China's official factory gauge cooled last month as the impact of trade tensions began to bite.
"Policy fine-tuning, especially the initial steps, is unlikely to reverse the course of a cyclical downtrend," said Hong. "The confirmation signal of a slowdown from the central bank will initially accelerate asset price changes along their existing trends, rather than reversing it."