Equity Investors Aren't Buying Beijing's Latest Policy Boost
(Bloomberg) -- Sign up for China Rising, a new weekly dispatch on where China stands now and where it's going next.
China's slowing economy is casting a long shadow on its depressed equity market, offsetting signs that Beijing will support growth.
The CSI 300 Index gained only 0.6 percent Monday, a muted reaction to the People's Bank of China's measure to release more cash into the financial system late Friday. And while global stocks surged after a blowout jobs report in the U.S. and a more dovish tone from the Federal Reserve, the Hang Seng Index added just 0.8 percent by 3:49 p.m. in Hong Kong. It's still down for the year after its worst start since 1995.
Traders and analysts aren't biting after 2018's rout in China and a bear market in Hong Kong caught most off guard. Citigroup Inc. recommends going defensive this year, saying that earnings projections are still too high. Morgan Stanley slashed price targets for the country's banks, predicting that uncertainty over trade and economic growth will limit gains. XuFunds Investment Management Co. said a PBOC-triggered rebound won't last.
"Heightened policy and economic uncertainties make us cautious on the outlook for Chinese equities," Citigroup's China strategist Jerry Peng wrote in a Jan. 4 note. "We expect economic weakness to persist, which is not fully reflected in current consensus earnings forecasts."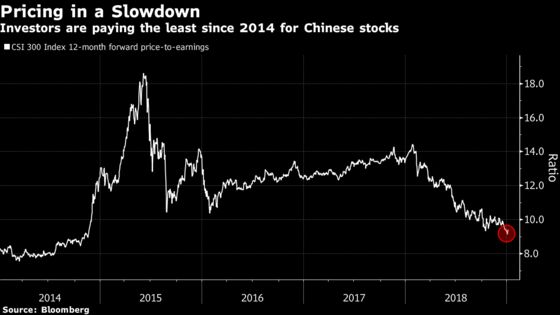 The CSI 300 Index is trading at just 9.4 times projected earnings for the next 12 months, near the lowest valuation in more than four years. That's after it lost 25 percent in 2018, the worst performance since the global financial crisis.
Volatility has returned to Chinese stocks after two months of relative calm, with the CSI 300's intraday swings widening last week to the highest since October. Investors are taking cues either from poor economic data or the prospect of more stimulus out of Beijing, with sentiment flipping daily. Economists predict China will need to do more to cushion growth.