Yuan Rises as China Sets Strong Fix, Xi Vows No Harmful Weakness
(Bloomberg) -- China's yuan climbed as the central bank set its daily reference rate at a stronger-than-expected level and President Xi Jinping pledged against currency depreciation that harms other nations.
The onshore yuan rose 0.15 percent to 6.7350 per dollar as of 5:24 p.m. in Shanghai, rebounding from the two-month low it hit Thursday. The advance came after the People's Bank of China set its daily reference rate at a level which was stronger than all forecasts that 17 traders and analysts gave Bloomberg. The nation will keep the exchange rate basically stable at reasonable levels, Xi said Friday at the Belt and Road forum in Beijing.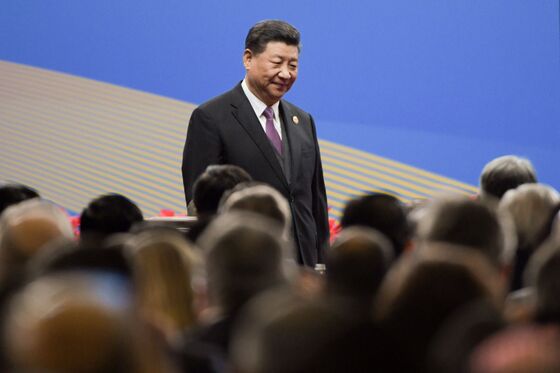 "The fixing today came in as a surprise," said Tommy Xie, an economist at Oversea-Chinese Banking Corp. "While it's too early to judge whether it's the beginning of a policy shift, it did support market sentiment."
Xie predicts the yuan will rise to 6.68 per dollar within one to two months as it will be supported by the PBOC's shift away from loose monetary policy, as well as signs of an economic recovery and upcoming trade talks with the U.S. The currency has weakened the most since February this week amid a rally in the greenback.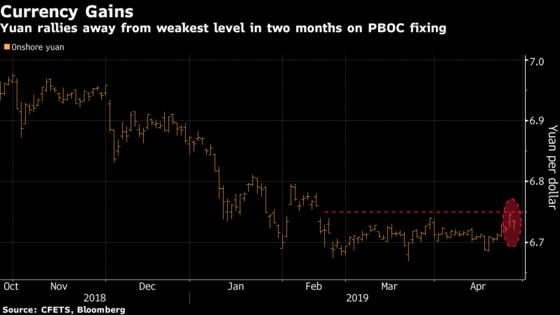 U.S. Trade Representative Robert Lighthizer and Treasury Secretary Steven Mnuchin are set to travel to Beijing for trade negotiations with China next week. The yuan has been part of the talks, amid U.S. concern over any potential depreciation in the currency, raising expectations the matter will be addressed in the final agreement.
The yuan's trading volume jumped on Thursday to the highest level this year.