China Sovereign Yield Falls to 19-Month Low as Easing Bets Grow
(Bloomberg) -- China's government bonds rallied, pushing the benchmark 10-year yield to its lowest since April 2017, amid bets that more monetary easing is on the way as the economy slows.
The yield on sovereign notes due in a decade dropped 2 basis points to 3.42 percent as of 4:44 p.m. in Shanghai. The move came after economic data released this week -- from credit growth to retail sales -- missed economists' estimates, spurring speculation the central bank may ease monetary policy to aid growth.
"The concern that the fundamentals are weak proved to be legitimate given the recent data," said Wu Sijie, a senior trader at China Merchants Bank Co. in Shanghai. Investors have high hopes for further monetary easing, with some expecting a reduction in the reserve requirement ratio in the coming months or even a cut in benchmark interest rates next year, he said.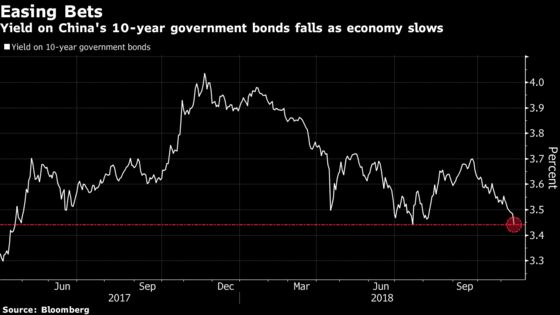 China's broadest measure of new credit slumped last month as government debt sales slowed, according to official data released Tuesday. The sub-par reading suggests more stimulus may be coming. Another batch of figures released Wednesday showed retail sales slowed in October while business investment has gained pace this year, indicating some previous easing has been feeding through.
The yield on five-year government bonds increased 1 basis point to 3.17 percent, after dropping 13 basis points Tuesday. The cost on one-year notes slid 6 basis points to 2.52 percent.