China Slowed for an Eighth Month in January, Early Indicators Show
(Bloomberg) -- Sign up for our new China newsletter, a weekly dispatch coming soon on where China stands now and where it's going next.
China's economy slowed for an eighth straight month in January, as weaker global demand and decelerating factory inflation combined to undercut growth.
That's the signal from a Bloomberg Economics gauge aggregating the earliest-available indicators on business conditions and market sentiment. The data suggest the government's stimulus efforts have yet to translate into more business activity so far in the first quarter, after the economy notched its slowest expansion since 2009.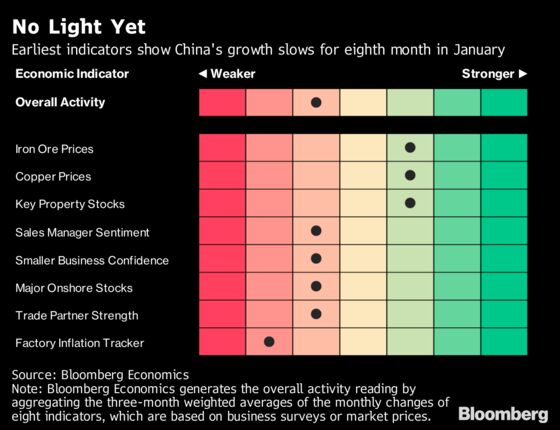 "The economy is still decelerating, but at a slower pace," said David Qu at Bloomberg Economics in Hong Kong. "Concerns over global trade and fragile confidence continue to weigh on the economy."
Reserve Ratio Cuts to Slashed Tariffs: China's Stimulus Steps
China's loss of momentum is reverberating around the global economy: Caterpillar Inc., a maker of earth-moving equipment, posted its biggest quarterly profit shortfall in a decade Monday, and provided a 2019 forecast that trailed some of Wall Street's estimates. Sales of excavators will be flat year-over-year in China, the Deerfield, Illinois-based company said.
The government unveiled more support for the economy in January, with the central bank cutting the amount of money banks must hold to secure liquidity and the Ministry of Finance aiming to allow provincial governments to sell more special bonds.
In all, the tax cuts and bond issuance could add up to stimulus worth 4.9 trillion yuan this year, or about 5 percent of gross domestic product, according to Bloomberg Economics' estimates.
On the trade front, Vice Premier Liu He heads to Washington this week for a pivotal round of talks focused on resolving the confidence-sapping trade war with the U.S. With the two sides still falling short on key "structural issues" such as intellectual property protection, there's little sign that a breakthrough before March, when the current truce is set to end, is likely.
The first official economic data for January, the purchasing managers indexes for the manufacturing and non-manufacturing sectors, will be released Thursday morning in Beijing.
The manufacturing gauge will probably stay below the 50 level that denotes contraction, according to economists polled in a Bloomberg survey. In December, the PMI dropped to 49.4, the weakest since early 2016. The non-manufacturing gauge, which covers construction and services, is forecast to stay unchanged at 53.8, according to the survey.
China's manufacturing companies are already under pressure with shrinking profits and decelerating factory inflation. If the current trade talks fail, higher U.S. tariffs would further damage their prospects.
An index of business confidence among small and mid-sized enterprises maintained by Standard Chartered nudged up to 54.9 in January from 54.7 in December, lifted a tad by the government's efforts to secure credit to the private sector.
Real activity of firms, including sales and production, continue to face downward pressure in January due to a slowing economy and the coming festive season, according to Shen Lan, the Beijing-based economist in charge of the bank's survey.
Data from China's major trading partners point to waning external tailwinds. The weighted average of the flash PMI readings of nations including the U.S., the European Union and Japan moderated for a ninth straight month in January. Though still in expansion territory, it was the lowest level in two years.
Other market sentiment gauges also showed that the outlook remains soft. The Shanghai Composite Index is struggling to recover from one of its worst-ever years in 2018. Prices of commodities sent a mixed message, with copper falling in January and iron ore trading rebounding from December's lows.
A more optimistic note, for now, is coming from the labor market.
"The labor market does not show signs of a collapse and salary growth has picked up," Shen wrote. Credit access and surplus cash conditions also improved, but the borrowing rates for smaller businesses are still "elevated" even as "the money market rate trends lower on flush liquidity, suggesting the interest-rate transmission mechanism continues to impede the real economy," she wrote.