China Sets a Speed Bump for Dollar's Rally
(Bloomberg) -- The relentless rally in the U.S. dollar might be poised to take a breather after China's central bank stemmed a decline in the yuan with a pledge to keep the exchange rate stable.
China accounts for more than a fifth of the Federal Reserve's trade-weighted dollar index, the largest share of any country. With that kind of influence, the latest salvo from the People's Bank of China could put a damper on further greenback gains, according to Shahab Jalinoos, global head of FX trading strategy at Credit Suisse Group AG.
"It's always easier to have a broad rally when the dollar is rallying strongly against a currency that represents over 20 percent of the trade-weighted index, because obviously that sets the tone," he said. "So if that slows down, the dollar's rally -- just mechanically -- slows down."
A stabilization of the dollar-yuan exchange rate also creates "a psychological effect on some other currency pairs," in particular in Asia, Jalinoos said.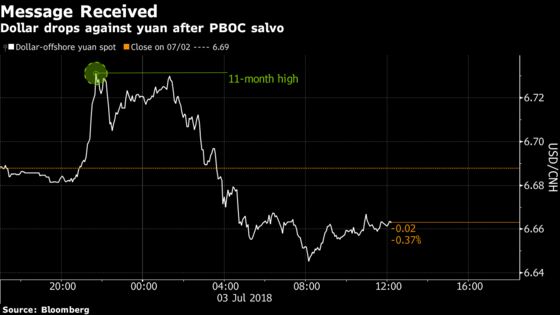 Officials from the PBOC said Tuesday that the country plans to "keep the yuan exchange rate basically stable," and that currency weakness won't be deployed as a weapon in the U.S.-China trade spat. The offshore yuan strengthened 0.4 percent to around 6.6647 per dollar as of 12:15 p.m. in New York, having earlier weakened past 6.70 for the first time in almost a year.
The offshore yuan remains down more than 4 percent against the dollar since mid-June amid escalating trade tensions with the U.S. and a downshift in Chinese economic momentum. Analysts had expected that policy makers would act to stem losses if the pair breached 6.7, according to a Bloomberg survey conducted before it broke through that level.
While the dollar-yuan rate has stabilized, volatility could return on Friday, according to Alan Ruskin, Deutsche Bank's global co-head of foreign-exchange research. July 6 marks the deadline for the U.S. to impose tariffs on imports from Asia's largest economy, whose officials have vowed to retaliate.
"I don't think we're returning to an environment which is just business as we knew it," said Ruskin.