China's Yuan Sinks Past Key Support Level as Trade War Heats Up
(Bloomberg) -- China's currency tumbled the most in two months as the nation's markets reopened after a week-long holiday to worsening tensions with the U.S.
The yuan slid as much as 0.78 percent to 6.9260 a dollar on Monday, falling past the support level of 6.9 for the first time since mid-August. Losses extended after 4:30 p.m. local time, the central bank's reference point for the currency fixing the next day.
The exchange rate is facing a raft of negative factors, from plunging equities to a looser monetary stance by the People's Bank of China and a ratcheting up of pressure by U.S. officials. A gauge of large-cap stocks fell almost 5 percent on Monday, despite the PBOC cutting the reserve ratio for banks, while U.S. Secretary of State Michael Pompeo cited "fundamental disagreement" with China's foreign minister during a visit to Beijing.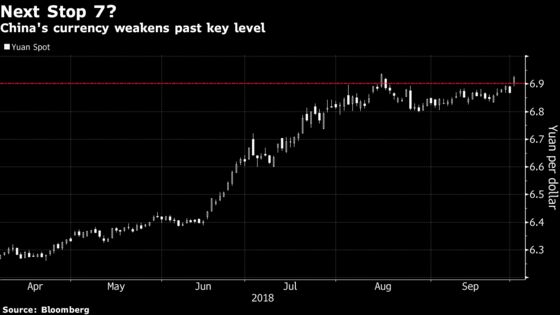 "Investors are stepping up building positions betting the yuan will drop to 7 per dollar now after the currency breached 6.9," said Ken Peng, an investment strategist at Citi Private Bank in Hong Kong. "The RRR cut sends a strong signal that China is in an easing cycle and all external news makes the case for a stronger dollar."
The yuan has tumbled 9 percent against the dollar in the last six months in one of Asia's worst performances. If it weakens past its August low of 6.9340, the exchange rate would be the lowest since January 2017, when the authorities stabilized the currency through a mix of capital controls and dollar sales.
"There will be PBOC management along the way, but the yuan will face pressures to weaken throughout October," Peng said, adding that the currency may stabilize next month if government supportive measures boost the economy.