China's Yuan Leads Gains in Asia With Biggest Advance in a Week
(Bloomberg) -- China's yuan rose the most in a week, outperforming all other currencies in Asia, as cash supply tightened at the end of the month.
The yuan gained as much as 0.55% to 6.6789 a dollar, erasing all losses since the central bank made building short bets cheaper three weeks ago to encourage weakness. The currency was up 0.4% at 6.6890 as of 1:40 p.m. in Shanghai.
Underpinning the strength on Friday was a tightening of liquidity, which pushed the benchmark gauge of interbank borrowing costs to the highest since February. Demand for the yuan typically rises toward month-end, as banks hoard funds for regulatory checks and exporters sell their dollar receipts.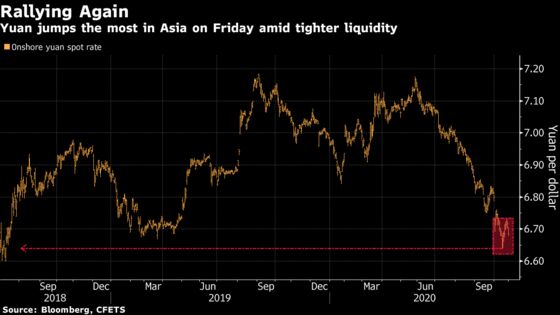 The Chinese currency is poised to advance for the fifth month, thanks to its wide interest-rate premium over the U.S. and the economic recovery from the virus pandemic. The yuan also received a boost from optimism that it would remain strong during a major meeting of the Communist Party this week, where leaders outlined economic plans for the next five years.
The onshore yuan is in line for a gain of 1.6% this month and is up 7.2% from a low in May.