China's Yuan Rebounds After Nearing Weakest Level In A Decade
(Bloomberg) -- China's yuan jumped Friday afternoon after sliding toward its weakest in a decade and close to a key level of 7 per dollar.
The currency, which was down throughout most of the Asian trading day, has fallen 9 percent in the past six months, pressured by China's trade dispute with the U.S. and expectations of further easing by the central bank. That's stoked renewed concern of capital outflows, with the yield spread between Chinese and U.S. government bonds near the tightest since April 2011.
The yuan spiked shortly before 4 p.m. local time. Three traders said at least one big Chinese bank sold the dollar, triggering stop-losses. Earlier in the day, the currency only pared some losses after People's Bank of China Deputy Governor Pan Gongsheng told a briefing that the central bank would continue taking measures to stabilize sentiment.
"We have dealt with short-sellers of the yuan a few years ago, and we are very familiar with each other," Pan said. "I think we both have vivid memories of the past."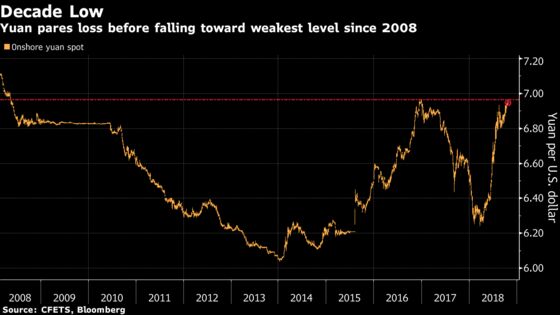 Pan also said the yuan is stable compared with other currencies and that its recent weakness has been driven by factors including U.S. rate hikes, trade tension and a stronger dollar.
The yuan was up 0.06 percent at 6.9451 per dollar at 4:55 p.m. It fell as much as 0.22 percent Friday morning toward its weakest since May 2008. When the currency was close to this level just under two years ago, the government engineered a dramatic liquidity squeeze in the offshore market.
The Friday afternoon move could be to strengthen the onshore yuan's official close at 4:30 p.m. -- a factor that is considered in setting the daily fixing for the following day, said Khoon Goh, head of research at Australia and New Zealand Banking Group Ltd. in Singapore. The PBOC set the daily reference rate weaker than expected Friday.
"I expect the 7 level to hold as I do not think the Chinese authorities want to see further yuan weakness," Goh said. A move past that milestone "may cause further outflow pressure, and potentially see the recent strong foreign inflows into bonds and equities slow."
The currency's moves had been relatively muted in recent days, though trading volume hit a record high Wednesday, stoking speculation authorities intervened to stem depreciation. Chinese Premier Li Keqiang said at a conference Friday that China won't engage in competitive devaluation of the yuan.
The U.S. stopped short of labeling China a currency manipulator in a semi-annual report this month, but it did criticize the country for not disclosing its interventions. Treasury Secretary Steven Mnuchin said there could be a change in methodology for determining whether countries are gaming their currencies.
The Bloomberg Dollar Spot Index rose 0.1 percent Friday, heading for a weekly gain of 0.8 percent. Meanwhile, the currencies of Australia and New Zealand, countries that rely on China to buy their commodities, declined. The Aussie dropped as much as 0.8 percent to its weakest since February 2016, while the kiwi fell 0.9 percent.